Bangladeshi UN peacekeeper killed in Mali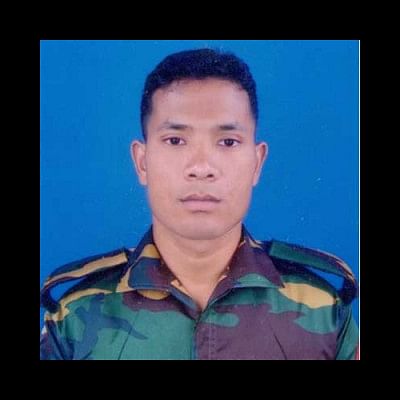 A Bangladeshi on UN peacekeeping mission was killed and another sustained bullet injuries in militant gunfire in Mali's capital Bamako yesterday evening.
The deceased is Sainik Shree Nilkanto Hajong  while the injured is Sainik Sirajul Islam, says a press statement floated by the Inter Service Public Relations (ISPR).
Gunmen shot the two Bangladeshi peacekeepers, who were on board a jeep of Bangladesh Transport Contingent at Bamako, around 7:00pm on Monday local time.
Nilkanto was killed on the spot, the ISPR statement said. Sainik Sirajul Islam was said to have been undergoing treatment at Level-2 hospital in Bamako, the press statement added.
DEAD JUST WHEN HIS WIFE GOT PREGNANT
Nilkanto Hajong left Dhaka for UN peacekeeping mission last Tuesday, family source said.
He had left behind a four-month pregnant wife at his home in Khilagar village of Dharmapasha upazila of Sunamganj. He had just become a father after "a long wait".
"Nilkanto got married to Sanchita on August 2013. He died when he was going to be a father after a long wait," Samar Hajong, elder brother of the victim told our Moulvibazar correspondent.
However, details regarding Sirajul Islam, who sustained bullet injuries in the attack, could not be confirmed.
'TERRORIST ATTACK'
"We are seeking clarification and details. This has to be viewed as a terrorist act. The perpetrators are the enemies of peace," AFP reports quoting a Malian security source.
A source from MINUSMA, the UN's peacekeeping mission in Mali, told AFP the peacekeepers had been travelling from Bamako airport towards the south of the city when they were shot at by assailants from a car.
With more than 40 peacekeepers killed since its inception in 2013, the 11,000-strong MINUSMA is considered the most dangerous UN mission in the world.
It is regularly targeted by militants in the north and, while attacks in the capital are rare, Monday's ambush came just five days after a militant opened fire on a UN residence in the city's Faso Kanu neighbourhood.
The unidentified gunman shot and wounded a civilian guard and hurled two grenades which failed to explode in the early hours of Wednesday last week, but no troops were hurt.
The country's northern desert has been plagued by violence by jihadist groups that seized control of the region from Tuareg rebels before being routed by a French-led international intervention that began in 2013.
UPSURGE IN VIOLENCE
Despite peaceful elections after the French operation, the country remains deeply divided and the north has seen an upsurge in attacks by pro-government militias and the Tuareg-led rebellion known as the CMA.