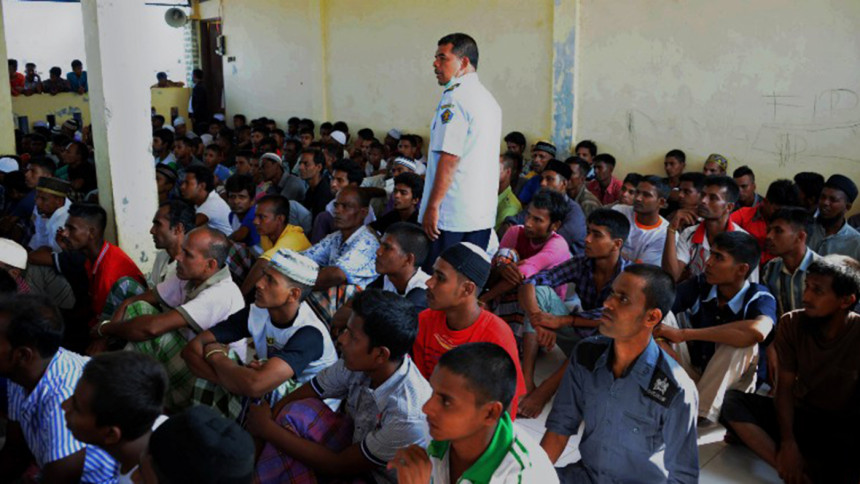 Malaysia slams door while Indonesia tows boat with migrants out of its waters; US urges coordinated efforts.
Countries Southeast Asia, notably Thailand, Malaysia and Indonesia, came under mounting pressure from the international community to provide humane treatment to thousands of Bangladeshi and Rohingya boat people. 
Thailand and Malaysia, which were downgraded to the lowest Tier 3 of the US report on Trafficking in Persons last year, were blamed for having shown little appetite to provide shelter to them while thousands of them reportedly were abandoned floating in the sea. 
Malaysia said it would not accept any new Rohingya arrivals after 1,158 immigrants were found on the shores of Langkawi on Monday.
Malaysia's deputy home minister, Wan Junaidi Tuanku Jaafar said his country would use tough measures, including turning back asylum-seeker boats and deportation in order to send the "right message".
"We don't want them to come here," the deputy minister was quoted as saying by The Guardian. 
"Malaysia has been showing good human faith, which entices people to come here," Malaysia's The Star quoted Wan Junaidi as saying.
Indonesia yesterday denied having a policy of turning away refugee boats, as its navy earlier towed a vessel carrying hundreds of people believed to be persecuted Rohingyas from Myanmar back out to sea.
Even though Indonesia is not a signatory to the United Nations Refugee Convention, it is always willing to help people in distress, foreign ministry spokesman Arrmanatha Nasir said. 
His remarks came after the military said it had towed a migrant boat out of Indonesian waters, and insisted that they had intended to go to Malaysia instead. "They didn't want to go to Indonesia," Arrmanatha said. "They only asked for clean water and food. We can't force or prevent them. If we see people entering Indonesian waters and they need help, we will help."
The United Nations High Commissioner for Refugees reported that 25,000 people were estimated to have departed Bangladesh and Myanmar via the Bay of Bengal to Southeast Asia since October last year.
Some managed to land while the International Organisation for Migration said some 8,000 are still at sea.
The United States yesterday voiced fears for the lives of the hundreds of migrants abandoned by traffickers at land and sea, calling on Southeast Asian nations to co-operate to address the crisis. 
Most migrants were making the journey "because of the dire humanitarian and economic situations they face at home and/or out of fear of ethnic and religious violence", a spokeswoman at the US Embassy told AFP.
"This is a regional challenge that needs to be addressed regionally, through a coordinated international effort and in accordance with international conventions and maritime law," she added. 
Thai police yesterday arrested four men they said were instrumental in operating the Satun-based Rohingya trafficking ring led by former local politician Pajjuban Angchotephan, who is still on the run.
One of them was arrested in neighbouring Ranong province and two others in Satun. Police did not immediately identify the men until after an evening press conference.
Pajjuban has reportedly fled to Malaysia's Langkawi, while Thai police are seeking cooperation from their Malaysian counterparts to hunt them down.
A police commander, Pol Maj-General Somchai Nittayaworrabutr, said Ranong-based assets belonging to local suspects worth around 100 million baht (US$2.98 million) were liable for seizure.
He said Thai authorities were seeking cooperation from Myanmar authorities to hunt down suspects fleeing across the Thai border. Police have obtained arrest warrants for another 11 suspects in addition to 51 wanted.
A police source identified some of the latest 11 as Sia Angchotephan, the chairman of tourism industry on Koh Li Pe off Satun, a relative of Pajjuban; Malay Tohdin, the chief of Tambon Poo Yoo administrative organisation; Wut Wutpradit; Anas Hajimasae.
A Ranong-based suspect, Piyawat Phongthai known as Ko Yong, yesterday turned himself in to the police.
Police said that Piyawat was working in the same trafficking ring with Suwan Saengthong, or Ko Nui, who had surrendered and was in custody.
According to Region 9 police, there were 312 migrants under government care, 63 of whom have been identified as victims of trafficking and 249 as illegal entrants.
A total of seven detention camps have been discovered on Khao Kaew in Songkhla.
---The Nation/Asia News Network