Gonojagoron Mancha to hold solidarity rally tomorrow
Demands home minister's resignation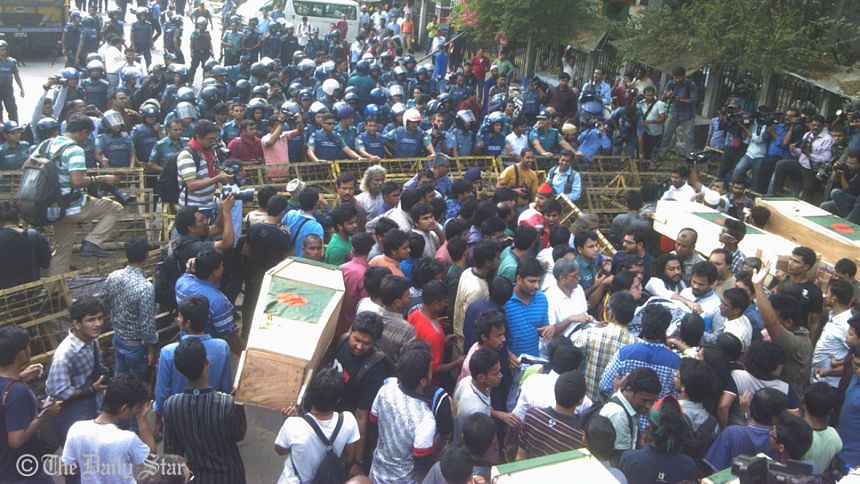 The Gonojagoron Mancha announced to hold a solidarity rally of free thinkers at tomorrow afternoon at Shahbagh in Dhaka.
Imran H Sarker, spokesperson of the platform, said they would bring out the rally at 3:00pm.
The announcement came after police stopped the token coffin march to the home ministry, brought out by Gonojagoron Mancha today in protest to the killings of free thinkers and a publisher, near Jatiya Press Club.
Shouting slogans for resignation of the home minister and carrying six token coffins, including that of publisher Dipan, they began a demonstration there facing barbwire barricades and armed personnel cannon.
A five-member delegation led by Imran was allowed to pass for placing a memorandum to the home ministry.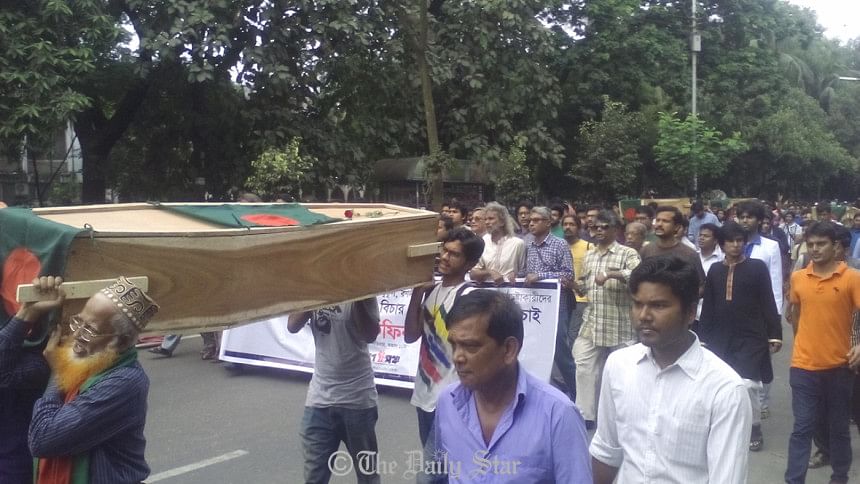 "The government failed to arrest the killers and hold trial of the culprits," Imran told reporters after coming back.
"Those who failed to root out militancy by making police force inactive are responsible for the assassination of free thinkers," the Gonojagoron Mancha spokesperson claimed.
ALSO READ: Freethinking Mauled Once Again
"The minister assured us that the government never tolerated militancy in the past nor will it do in the future," he added.
The Gonojagoron Mancha spokesman also raised questions whether Bangladesh as a state was a safe place at all anymore.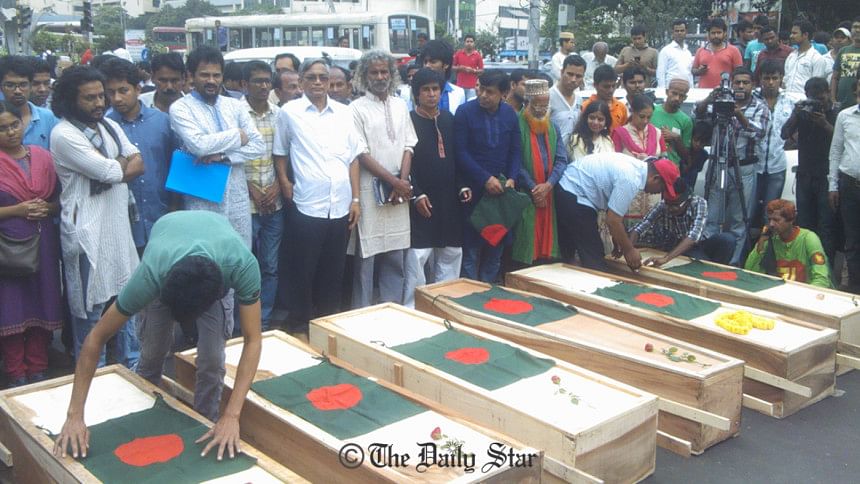 The march began from Dhaka's Shahbagh around 12:00 noon with over a hundred participants and paraded through Dhaka University's Doyel Chattar.
Among those who participated in the march were several student organisations, including Bangladesh Chhatra Union and a faction of Samajtantrik Chhatra Front, and people from all walks of life.
Earlier this morning, Jatiya Samajtantrik Dal (Jasad) held a human chain in front of national museum at Shahbagh protesting the attacks and killing of the publishers and bloggers.
READ MORE: Procession to home ministry
In twin attacks on October 31, Jagriti publishing house owner Faisal Arefin Dipan was hacked to death while Shuddhwashawr owner Ahmedur Rashid Tutul and bloggers Tareque Rahim and Ranadipam Basu were left injured.
No one has been arrested yet over the attacks.