March against human trafficking in Cox's Bazar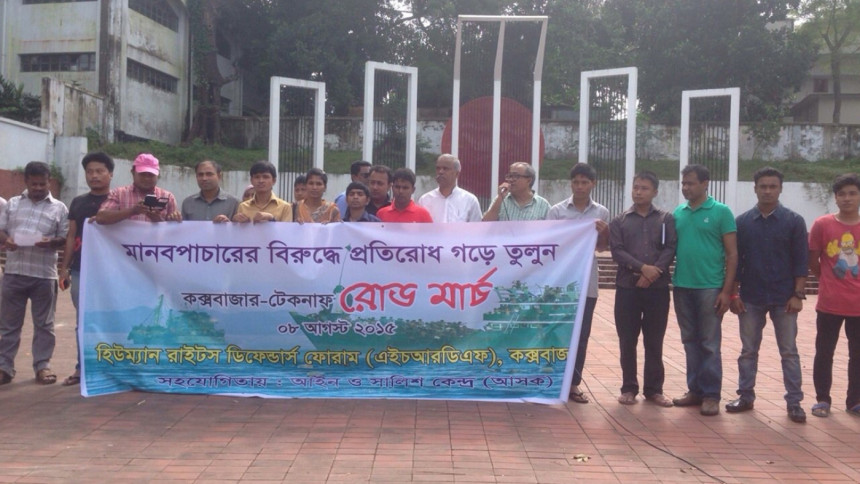 Rights activists today began a road march from Cox's Bazar to Teknaf in a bid to end human trafficking, put to trial those involved and compensate the victims.
Organised by Human Rights Defenders' Forum, the march began from Shaheed Minar at Cox's Bazar town around 9:15am and was continuing when this report was filed.
The road show is being attended by rights activists, lawyers, teachers and youths, said HRDF Member Secretary Mizanur Rahman Bahadur.
Advocate Sultana Kamal, executive director of Ain O Salish Kendra (ASK), Director Nur Khan Liton, Mohammad Harun Or Rashid of Bhalobashi Bangladesh, Sultan Uddin Ahmad of Bangladesh Institute of Labour Studies, HRDF Cox's Bazar District Convener advocate Arup Barua are expected to attend.
"We think there is a need to create mass awareness against human trafficking. As Teknaf to Cox's Bazar is a gateway for trafficking, we are holding the road show to draw the attention of all and the locals," Nur Khan Liton of ASK told The Daily Star by phone.
According to the UN Refugee Agency, 88,000 people from the coasts of Bangladesh and Myanmar took the sea journeys to Malaysia through Thailand, and 300 of them died at the sea since January, 2014.