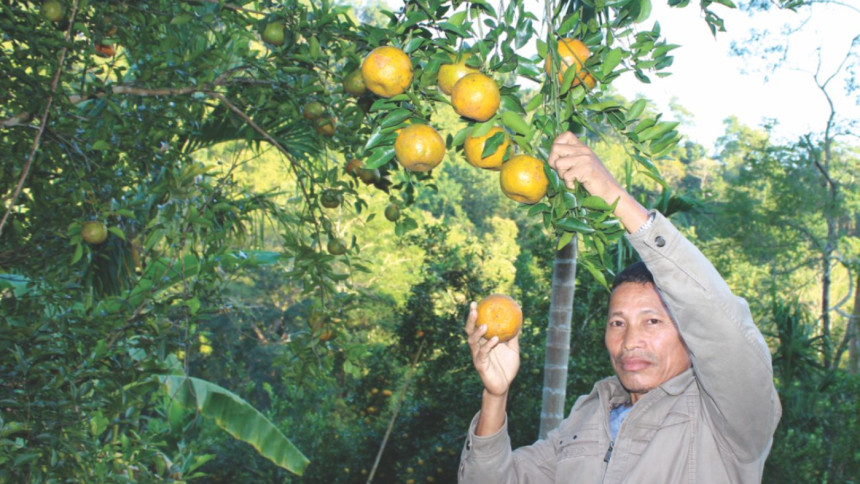 Branches hang heavy with ripe fruit in the mandarin orchards of Daane Sabekkhong Namakarbari Para village in Rangamati's Naniarchar upazila. It's a welcome scene of plenty. Mandarins are yet a relatively new crop in the hill tracts, a crop that's proving its potential. Local orchardists cannot but smile at this year's results.
"In 2007 I planted more than 500 mandarin trees on two acres," says orchardist Madhusudan Talukdar, 40. "The first harvest was achieved in 2013; a year later about half of the trees bore fruit and sales were good. This year all of the trees are full of ripe mandarins."
With the fruit of a good size, up to 300 grams per piece, and sweet taste, the popularity of Madhusudan's crop among consumers is assured.
"I will earn over Tk 6 lakh from mandarins this year, more than previously. A pair of mandarins sells for Tk 50 in the local market and people like them," he says.
His efforts have inspired neighbours to do the same. "After seeing Madhusudan's work I planted my own orchard," says Sumanta Chakma, 32, of the same village. "This year for the first time I sold some mandarins from my grove."
"Last year I planted 1500 mandarin seedlings on my land," says neighbour Ripan Chakma. "After a few years I hope that I, too, can make a tidy income."
Fruit trader Sukomol Chakma, 40, meanwhile, says that mandarins from Naniarchar upazila have experienced a much better yield this year. The burgeoning industry has brought him to the area.
According to local agriculture officials, while initially Sajek in Baghaichari upazila was famous within the hill tracts for mandarins, Naniarchar is fast gaining a similar reputation. Indeed the large size of Madhusudan's mandarins is new to Rangamati.
The deputy director of Rangamati's Department of Agriculture Extension, Ramani Kanti Chakma, observes that this year mandarin orchards have grown to cover 700 acres district-wide. He says the good yield in Naniarchar this year has been helped by favourable weather.