Khaleda's war martyrs remark 'contextually correct': Fakhrul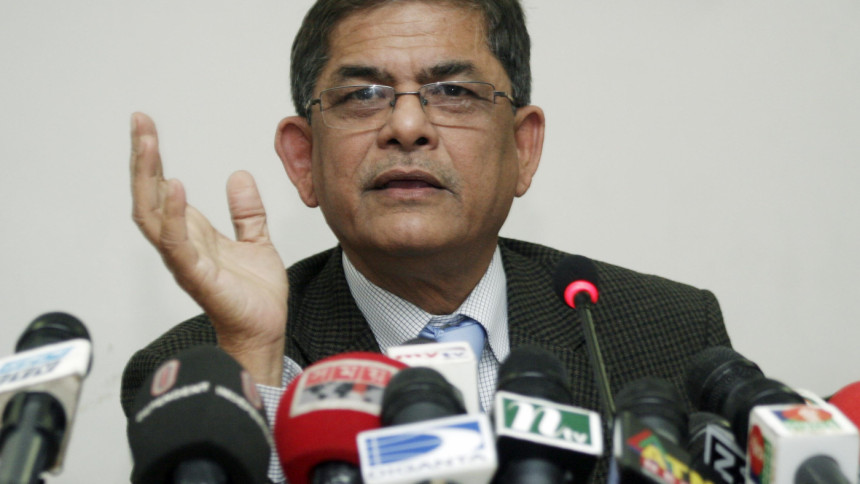 BNP acting secretary general Mirza Fakhrul Islam Alamgir today said his party's chairperson Khaleda Zia's remarks on the number of martyrs during the Liberation War of 1971 was "contextually correct".
''The Awami League leaders and activists distorted Khaleda Zia's comments on the number of 1971 martyrs to gain some political leverage,'' Fakhrul said during a programme organised by Bangladesh Nationalist British Law Students Alliance at the Supreme Court auditorium in Dhaka.
According to Fakhrul, AL is politically bankrupt, that is why they have to resort to false cases against Khaleda Zia, for example the sedition charge on her remark on Liberation War martyrs.
"Democracy in Bangladesh is under threat. Bangladesh itself is under threat because of the present government. People have lost their basic rights as citizens under the rule of Sheikh Hasina,'' Fakhrul explained at the programme.
The BNP chief, in her first public address in more than a year on December 21, questioned the number of martyrs during Bangladesh's Liberation War.
On December 23, a Supreme Court lawyer sent a legal notice to Khaleda asking her to apologise before the nation.
A Dhaka court ordered an investigation into a sedition charge filed against Khaleda on December 27, 2015 for her comments on the number of 1971 martyrs.