Khaleda out on killing mission: Hasina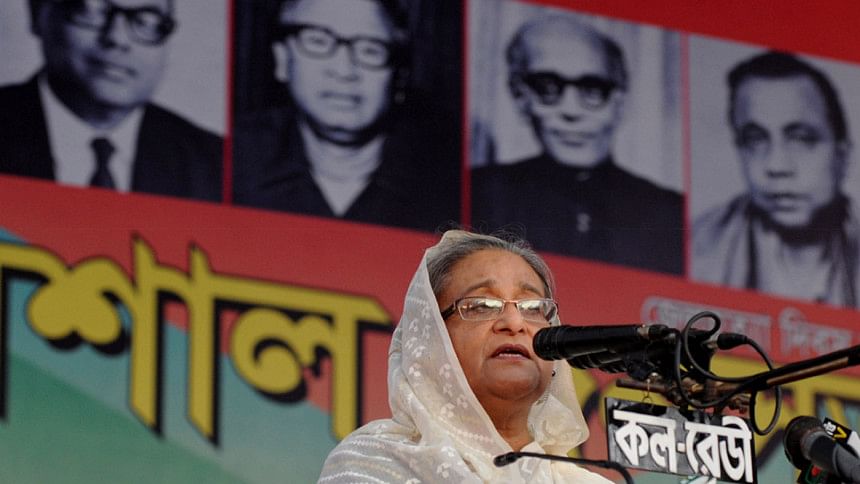 Prime Minister Sheikh Hasina alleged that Khaleda Zia was out on a killing mission assassinating Awami League leaders, activists, writers, publishers and foreigners in her bid to tarnish the country's image abroad.
"The BNP leader has now engaged in a killing mission for tainting the country's image, after being politically defeated in her efforts to topple the present government through killing people in the name of hartal and blockade," the premiere said.  
The PM came up with the allegations while addressing a public rally organised by the ruling Awami League at the city's historic Suhrawardy Udyan, marking the Jail Killing Day commemorating the assassinations of four national leaders.
Back in November 3, 1975, four national leaders and heroes of the country's Liberation War -- Syed Nazrul Islam, Tajuddin Ahmed, Captain Mansur Ali and AHM Quamruzzaman -- were assassinated inside Dhaka Central Jail.
Industries Minister Amir Hossain Amu, Agriculture Minister Matia Chowdhury, Health Minister Mohammad Nasim, AL presidium member Sheikh Fazlul Karim Selim and AL general secretary Syed Ashraful Islam, among others, spoke at the rally.
"After tarnishing the country's image by killing foreigners, she has now engaged in assassinations," the PM added.
Hasina said the BNP leader's target is to assassinate AL leaders, activists, writers, publishers and foreigners.
"Whenever there has been any investigation into any killing, it was found that the killers were either engaged in Chhatra Shibir or Chhatra Dal politics during their student lives," Hasina said.