Khaleda conspiring to destabilise country: Hasina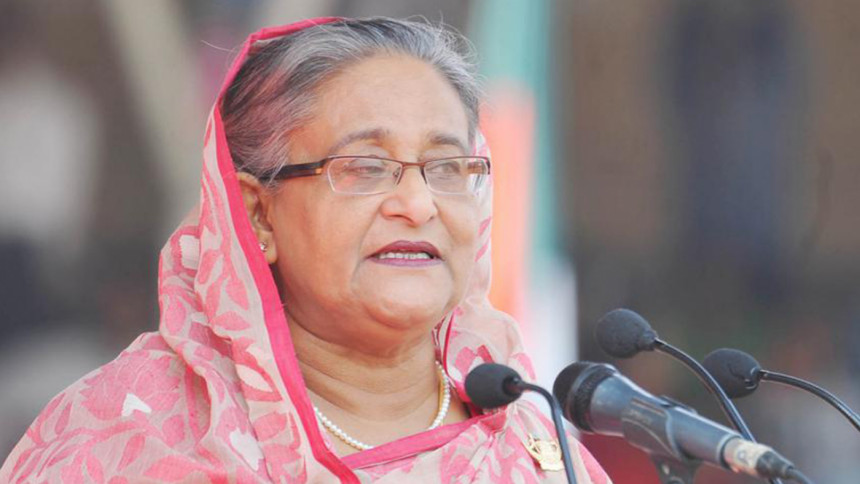 Prime Minister Sheikh Hasina today said BNP Chairperson Khaleda Zia is conspiring from abroad to destabilise the country through killing foreigners living in Bangladesh.
The Prime Minister said this when newly elected office-bearers of Chittagong, Barisal, Rangpur, Gopalganj and Gazipur Bar Associations met her at her official residence Gono Bhaban.
Hasina, also the Awami League chief, said Khaleda killed people in the name of agitation programme when she was in the country. "Now staying abroad, she is killing foreign nationals to create panic among them for tainting the country's image."
She said Khaleda has changed her agitation programme plan. "What's their new technique? BNP-Jamaat clique engaged lobbyists in various countries, including the European ones, the UK and the US to spread negative propaganda against the country," Hasina added.
The Prime Minister urged people to stay alert against Khaleda's this conspiracy to destabilise the country through killing foreign nations.
Hasina said whenever the country was heading towards development and reached to a dignified position in the world the, the BNP-Jamaat nexus started burning from inside.
"They put in their all-out efforts to tarnish the country's image and for that they killed people and do whatever needed to materialise their plot," she said seeking the cooperation of all in foiling the evil design.
President of Rangpur District Bar Association Adv Abdul Haque and general secretary Adv Abdul Malek, president of Barisal District Bar Association Adv Anisuddin Shahid and general secretary Kazi Mohammad Monirul Hasan, newly-elected member of Bangladesh Bar Council Adv Ibrahim Hossain Babul, president of Chittagong District Bar Association Adv Muzibul Haque Chowdhury, president of Gopalganj District Bar Association Adv Nasiruddin and general secretary Adv Md Asgar Ali, president of Gazipur District Bar Association Adv Mohammad Ibrahim, and former general secretary of Gazipur District Bar Association Adv Azmatullah Khan spoke on the occasion. General Secretary of Dhaka District Bar Association Advocate Najibullah Hiru conducted the function.
Law Minister Anisul Haque, Liberation War Affairs Minister AKM Mozammel Haque, Awami League Advisory Council member Adv Yusuf Hossain Humayun, AL Law Secretary Adv Abdul Matin Khashru, former chief whip Abul Hasnat Abdullah and Law Secretary Abu Saleh Sk Md Zahirul Haque were present at the dais.
Earlier, the presidents and general secretaries of the bar associations greeted the Prime Minister by presenting her bouquets.
Referring to the BNP leader's 'self-confinement' at her Gulshan office for long 92 days earlier this year, Hasina said, Khaleda Zia had announced not to return home until the Awami League government was dislodged.

Trying to do that, she said, the BNP leader had begun killing people, throwing petrol bombs, burning bus passengers to death as she did during 2013 in the name of movement to foil the national election.
Turning to the judiciary, the Prime Minister said her government has taken various programmes for the Judiciary, including establishment of Bangladesh Judicial Training Institute, Speedy Trial Tribunal and Bangladesh Legal Aid and Services Trust and formation of Judicial Services Commission.

About the digitisation of the courts' activities, she said, digital data has been made for all Acts while her government has undertaken a plan to digitise all communication system of the High Court with other courts of the country.

She said e-library system will be established in court libraries in phases and provide necessary assistance for more books there.

The Prime Minister said the people of the country want justice as it is their rights and her government has been working to ensure that.

The Prime Minister sought the cooperation of people in establishing Bangladesh as the most peaceful and prosperous country in South Asia as dreamt by Father of the Nation Bangabandhu Sheikh Mujibur Rahman.