Khaleda charged with Jatrabari arson attack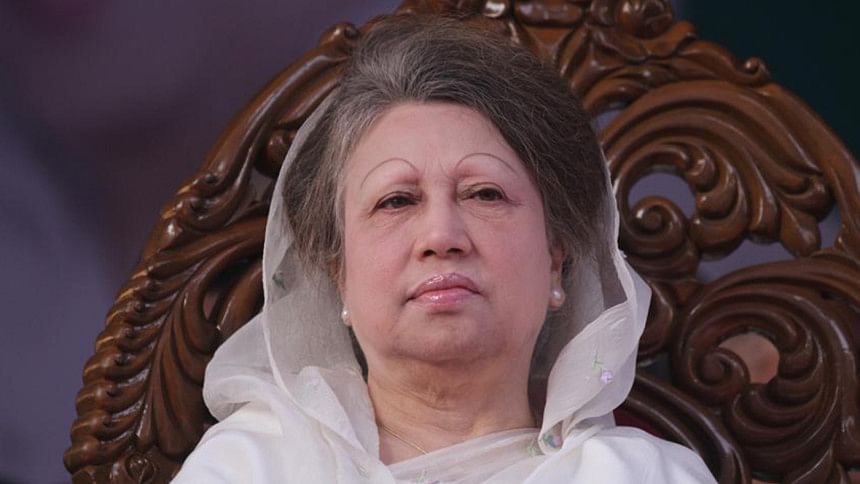 Detectives today pressed charges against Khaleda and 37 others, mostly her party men, allegedly for carrying out subversive activities by petrol bomb attack on a passenger bus in the capital's Jatrabari in January.
The attack on the night of January 23 killed one person and injured 30 others, -- one of many bomb attacks that the country witnessed in the three months since early January when the BNP-led 20-party alliance started an indefinite blockade.
Earlier on May 6, detectives submitted two charge sheets—one for murder and another for explosions charges--against Khaleda and the 37 people for the same bomb attack.
Today's charge sheet was submitted in the case filed under Special Powers Act while previous one was filed under Penal Code along with Explosive Substance Act.
This is the second time Khaleda, also a former prime minister, has been charged in a criminal case.
A day after the January 23 attack, Jatrabari Police filed two cases against 68 BNP and Jamaat-e-Islami leaders. The cases were later transferred to the Detective Branch (DB) of Police.
The accused include BNP leaders MK Anwar, Ruhul Kabir Rizvi Ahmed, Amanullah Aman, Barkatullah Bulu, Habibunnabi Khan Sohel, Mir Sarafat Ali Sapu, Azizul Bari Helal, Sultan Salauddin Tuku, former BNP lawmaker from Dhaka Salauddin Ahmed, Khaleda's advisors Khandker Mahbub Hossain and Shawkat Mahmud, her special assistant Shimul Biswas and press secretary Maruf Kamal Khan.
Seven of the accused, including Rizvi, are in jail.
Four of the arrestees -- Parvez, Sohag, Liton and Jony -- gave statements before magistrates on different dates admitting their involvement in the attack. The four said they were hired by some central and local BNP leaders to carry out the arson attack to create anarchy in the city, court sources said.