Jute market on road
The makeshift market causes immense suffering to Jamalpur students, office goers and farmers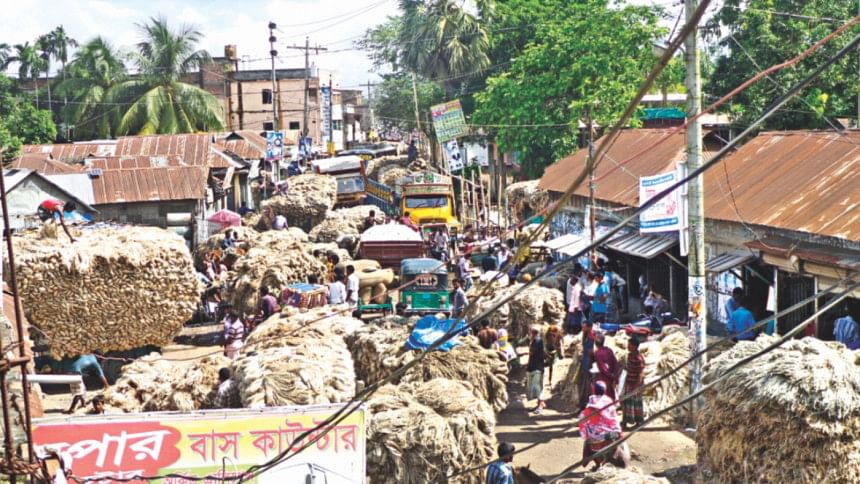 A makeshift jute market occupies Jamalpur-Madarganj road at Balijuri Bazar in Madarganj upazila two days a week, causing nuisance for a large number of people including students, office goers and farmers.
During weekly market days on Saturday and Wednesday, the market sees serious rush, leaving very little space for commuters and pedestrians due to presence of a large number of buyers and sellers and jute-laden four wheelers and horse carriages used by them. 
The market continues from 7:00am to noon.  
The situation prevails for about four months from Sravan to Kartik (mid-August to mid-November) every year, often causing a half kilometre-long traffic congestion on the road for long, said traders at Balijuri Bazar.
There are several educational institutions, banks, government and non-government offices and a good number of permanent business set-ups in Balijuri Bazar and adjoining areas and the people concerned suffer much due to the situation, said locals.
Students, taking longer time to cross the jam-packed road, sometimes fail to attend their classes on time, said Md Rafiqul Islam, assistant professor of Nurunnahar Mirza Kasem Girls' College in the area.
The buyers often stack their purchased jute on the roadside while farmers, who take their produce by carriages to the road for sale, have to stay in the crowded market for long. Tired of waiting for long, they have to sell the item at lower than usual prices, said several local jute growers who came to the market to sell the produce. 
During a visit to the market on Saturday morning, this correspondent saw huge rush and traffic jam on the road amid presence of jute-laden carriages brought by sellers and buyers. 
"Often we sell jute at lower prices as there is not smooth environment and enough time to bargain with the buyers," said farmer Shahjahan Mandol, 60.
Several others including Alam Sardar, 55, and Ziaul Haque, 45, echoed the same.
Many traders, who have regular shops on both sides of the road, alleged that they cannot run their business well as customers hardly visit their shops during the rush hours.
The local administration should take immediate steps to shift the jute market to any suitable place to ensure smooth movement for the commuters through the road and create a congenial atmosphere for the sale of the agro-product for fair prices, said stakeholders.
Mohammad Kamruzzaman, upazila nirbahi officer of Madarganj, said he would discuss the issue with local stakeholders and shift the jute market to a suitable place as soon as possible.