Justice demanded on Rana Plaza anniversary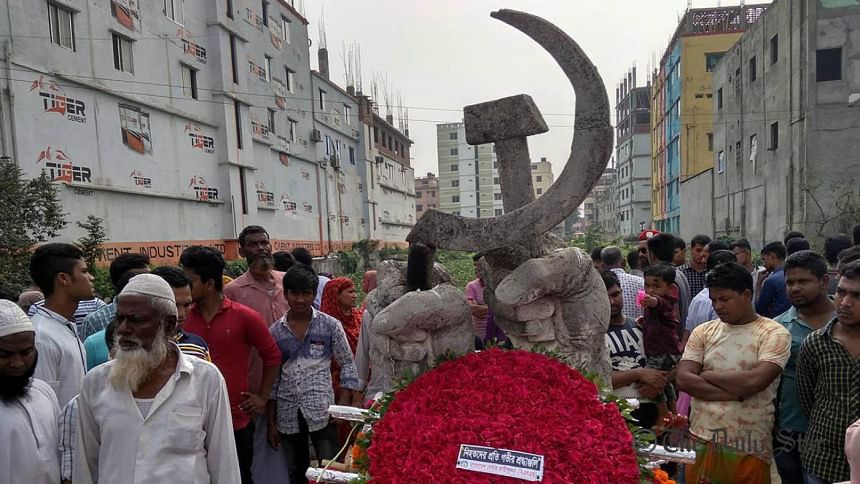 Pro-labour forces today called out for justice over the Rana Plaza tragedy, five years after the biggest industrial disaster shook the world with death of over a thousand workers in building collapse.
In thousands, victims, families of those dead, pro-labour organisations and common people converged on the collapse site at Savar this morning, remembering this day as it unfolded back in 2013.
They placed floral wreath at the base of the monument, a pair of hands holding hammer and scythe, at the collapse site in mourning of those 1,138 dead and over 2,500 others injured.
"Five years have gone by and we still see no progress in justice," Jolly Talukder, general secretary of Garments Workers' Trade Union Centre, told The Daily Star at Savar. "We demand quick trial and justice of all those institutions involved with the Rana Plaza disaster."
'MURDER IN STATE NEGLIGENCE'
Two rights activists have dubbed Rana Plaza collapse as a murder carried out under broad daylight and because of negligence of the state and those responsible for workers' security.
"This was no accident. It was a murder under broad daylight," said Sultana Kamal, eminent rights activist. "Justice should have been delivered in 1 year, but instead the trial has been hanging at court for the last two years. We know, the government can do more if it wants."
"We think, this dillydallying is intended to save those responsible for the collapse," she said.


He demanded April 24 to be declared a workers day in Bangladesh.Syed Abul Maksud, noted journalist, columnist, research scholar, essayist, and writer, echoed similar words and added that "the state negligence is responsible for such an incident".