Cop suspended over JU teacher assault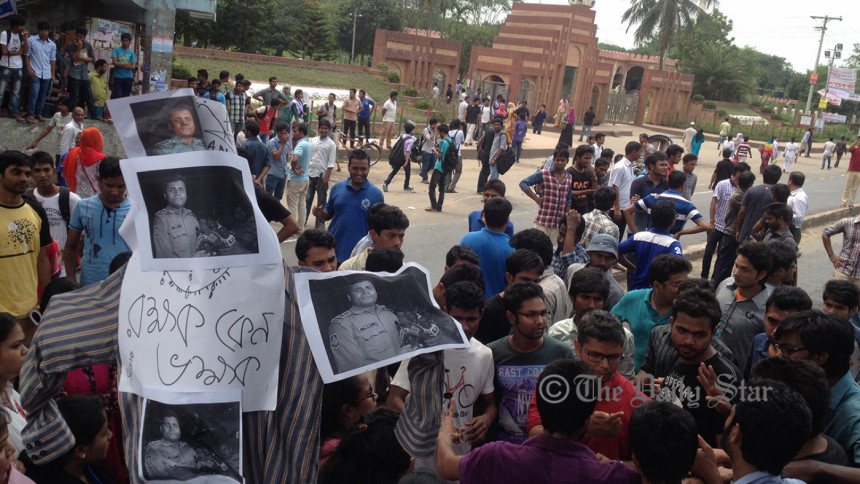 Authorities today suspended the responsible police sergeant and formed two probe bodies over yesterday's assault on Jahangirnagar University teacher.
Sergeant Imran has been suspended and closed to DMP control room, said Jahangir Alam Sarkar, acting deputy commissioner (media) of DMP.
Rakib Ahmed, an assistant professor of journalism at JU, was allegedly beaten by police on his way to the airport railway station with his parents last night.
Police refused to accept a case over the incident and a wave of protest followed today at both Dhaka and Jahangirnagar university campus.
Two probe bodies have been formed to investigate the incident, Jahangir Alam said. They will have to report within three working days.
Iqbal Hossain, Dhaka police's Uttara division deputy commissioner will lead one of the bodies while Kuddus Amin, deputy commissioner of the division's traffic police will lead the other.
PROTEST ALL AROUND
Dhaka University Journalist Association today hosted a protest programme at Oporajeyo Bangla premises over assault on their former president.
The programme was attended by teachers and students of several departments.
Meanwhile, hundreds of Jahangirnagar students, including from journalism department, blocked the Dhaka-Aricha highway this morning protesting the assault.
They demanded suspension and apprehension of the officer-in-charge of the local Uttara police station concerned, that the police accept a case over the incident and apologise formally.