JS body returns bill, seeks further pay rise of MPs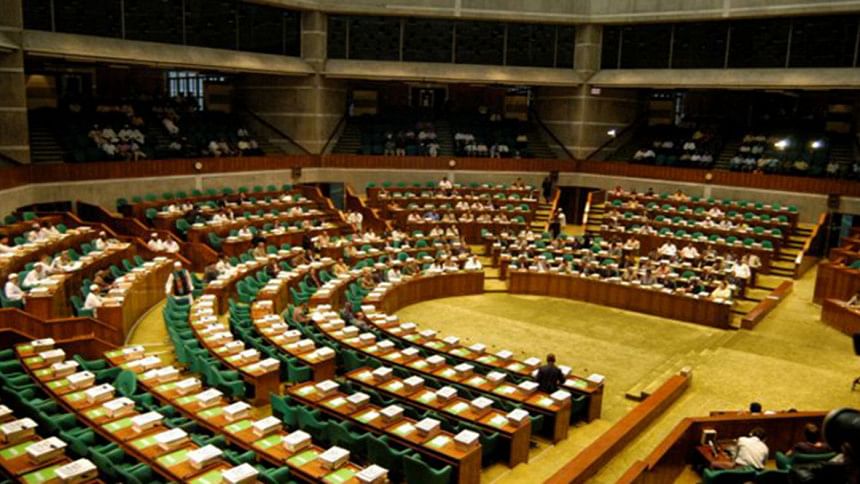 A parliamentary body today sent back a bill to the Cabinet Division, seeking an increase in remuneration and allowances of lawmakers in comparison to bureaucrats.
The parliamentary standing committee on law made the recommendations at a meeting held at the Jatiya Sangsad Bhaban.
The parliamentary watchdog however finalised The President's (Remuneration and Privileges) (Amendment) Bill, The Prime Minister's (Remuneration and Privileges) (Amendment) Bill, Speaker and Deputy Speaker (Remuneration and Privileges) (Amendment) Bill, The Ministers, Ministers of State and Deputy Ministers (Remuneration and Privileges) (Amendment) Bill paving the way for passage of those bills aimed at doubling their remuneration and privileges.
Agriculture Minister Matia Chowdhury, who is in-charge of the cabinet division in Parliamentary affairs, placed the five bills early this week proposing to increase their remuneration and privileges almost double.
Two MPs – Mayeen Uddin Khan Badal of Jatiya Samajtantrik Dal and Ziaul Haq Mridha of ruling Awami League – opposed the lawmakers' (remuneration and privileges) (amendment) bill saying MPs' salaries were not adjusted in comparison with that of bureaucrats, since a member of parliament ranks higher than a bureaucrat in the Warrant of Precedence.
"A bureaucrat now draws around Tk 86,000 monthly while an MP gets around Tk 55,000 which is discriminatory," Suranjit Sengupta, chief of the parliamentary body, said at a briefing at the Jatiya Sangsad Media Centre emerging from the meeting.
"Some argued that MPs do not get salaries, they get remuneration. If that is the logic, then President and PM also get remuneration," Suranjit, also a senior AL MP said.
"As the President post stands over all, he gets the highest salary. Under this consideration, MP should get more amount of salaries than bureaucrats as lawmaker's position stand superior to them," added Suranjit.
He also said no other allowances of MPs including medial, presence in the committee and travel allowances were increased.
"The committee therefore sent back the bill to the respective authority to fix these discrepancies," Suranjit also said.