Journalists, media employees demand 9th Wage Board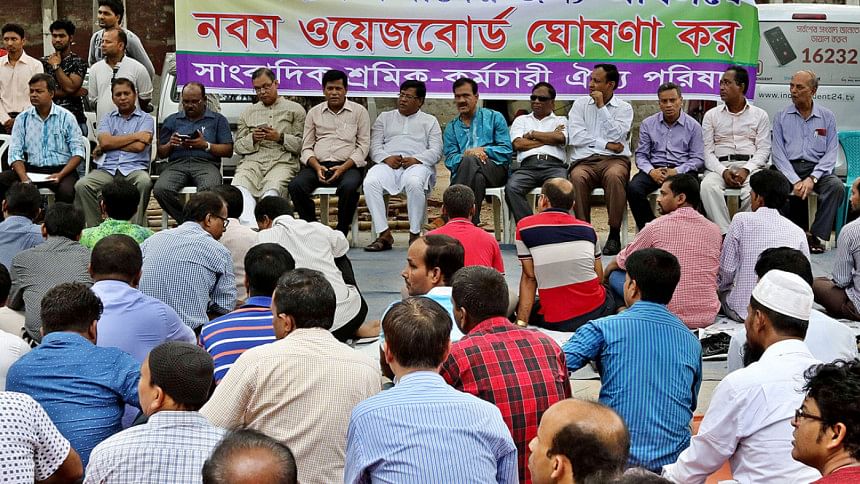 Sangbadik-Sramik-Karmachari Oikya Parishad (SSKOP), a platform for journalists and media personnel today threatened to go on a greater movement if their demand for the announcement of the 9th Wage Board for media people is not met by a month.
SSKOP leaders made the ultimatum at a rally held at the Jatiya Press Club premises.
They said people employed in mass media have been subjected to discrimination although the salaries of government employees at different levels and members of the judiciary have seen a rise recently.  
President of Bangladesh Federal Union of Journalists (BFUJ) Monjurul Ahsan Bulbul spoke at the rally as the chief guest.
BFUJ secretary general Omar Faruk, president of Dhaka Union of Journalists (DUJ) Shaban Mahmud, its vice-president Atikur Rahman Chowdhury, former DUJ secretary general Abdul Jalil Bhuiyan and general secretary of Dhaka Reporters Unity (DRU) Raju Ahmed, among others, addressed the rally  with President of Bangladesh Federal Union of Newspaper Press Workers Alamgir Hossain in the chair.
Omar Faruk said if the government does not announce the 9th Wage Board for the journalists, employees and workers in print, electronic and online media within the next month, a greater movement will be waged through visiting the units across the country.
Monjurul Ahsan Bulbul urged all the DUJ units to play a stronger role in realising the demand for the 9th Wage Board.