Journalist Probir Sikdar released on bail
Police say he is not needed for questioning anymore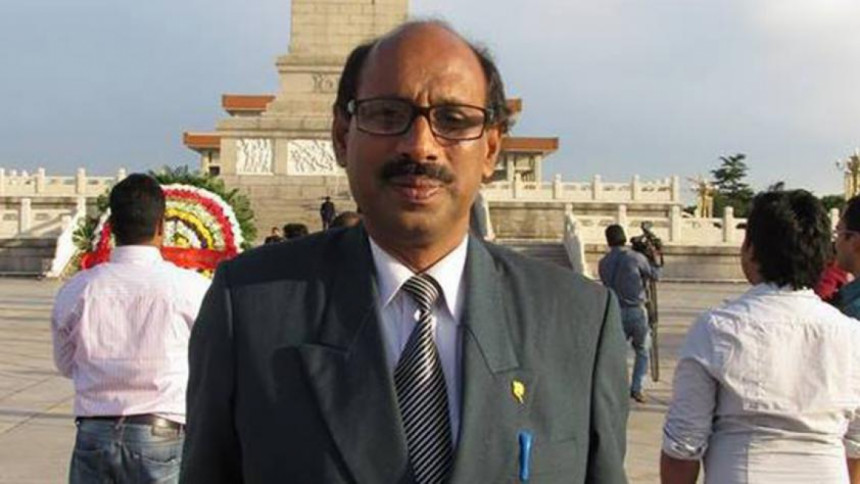 Journalist Probir Sikdar was freed on bail by a Faridpur court this afternoon, a day after he was taken on a three-day police remand for questioning.
Received by family, relatives and a jubilant group of media professionals at the jail gate, Probir Sikder said, "I am grateful  to all who have contributed to my release from prison."
Probir Sikdar was also thankful to journalists from Faridpur, the journalist community of Bangladesh, the human rights organisations as well as the Gono Jagoron Mancha to help his cause and enable his eventual release from prison.
Earlier, Chief Judicial Magistrate Hamidul Islam granted him bail after police told the court that they did not need to interrogate the journalist further.
The court order came amid calls from different platforms of journalists, rights activists and socio-cultural organisations home and abroad.
Probir was arrested on August 16 from his office in the capital, after Faridpur local Awami League leader Swapan Kumar Paul filed the case on Sunday following the Facebook "libel" Sikdar.
He was taken for three-day remand yesterday in a case filed under Information and Communication Technology Act for what police said libel against Minister Khandkar Mosharraf Hossain.
Today, police produced him before court because "he was not needed in remand anymore," said Monir Hossain, a sub-inspector of Faridpur Sadar Police Station and probe officer of the case.
A defence lawyer for Probir, Ali Ashraf Nannu, cited police's unwillingness to keep the accused under remand and moved a bail petition for the veteran journalist this morning.
During hearing, Ashraf said, "He is ill, he is a professor and he is the bloodline of a martyred family of the Liberation War. If he gets bail, he will not flee".
In his Facebook post, Probir said his life was under threat and that the minister, businessman Moosa bin Shamser and a condemned fugitive war criminal Abul Kalam Azad would be responsible if he was killed, police said.
Police produced the journalist before the Faridpur court on August 17, seeking a 10-day remand. But the court sent Probir, 55, to prison and was later placed on a three-day remand.
On August 18, the Committee to Protect Journalists (CPJ) called upon the government to release journalist Probir Sikdar immediately.
Other organizations like Bangladesh Federal Union of Journalists (BFUJ) and a faction of Dhaka Union of Journalists (DUJ) protested against the arrest of the veteran journalist and demanded his immediate release.
Journalists in Dhaka called a programme to observe a three-hour hunger strike today in front of the Jatiya Press Club in Dhaka demanding release of Probir Sikdar.