Journalist Probir sent to jail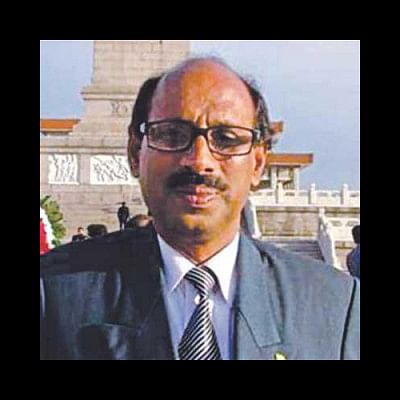 A Faridpur court today sent journalist Probir Sikdar to jail in connection with a case filed against him under the Information and Communication Technology Act.
Police produced Probir before the court around 6:00pm this evening, seeking 10-day remand against him.
Later, Judge Md Hamidul Islam ordered to send Probir to jail.
However, it could not be known when the hearing on the remand prayer will be held, a correspondent from Faridpur reports, quoting Court Inspector Enayet Hossain.
Earlier yesterday, detectives arrested journalist Probir Sikdar from his Indira Road office in Dhaka, hours after a Faridpur Awami League leader filed a case against him under the ICT Act.
Plaintiff Swapan Kumar Paul in his case statement said Probir in a Facebook status claimed to be under threat and that LGRD Minister Khandaker Mosharraf Hossain, Moosa bin Shamser and condemned fugitive war criminal Abul Kalam Azad would be responsible if he were killed, police said.
The case was filed in the afternoon for tarnishing image of the minister through the Facebook post, Syed Mohsinul Haque, officer-in-charge of Faridpur Sadar Police Station, told The Daily Star.
Protest and condemnation poured in on social media after the news of Probir's arrest spread.
Probir posted the Facebook status in question on August 10, days after Sher-e-Bangla Nagar police refused to register a General Diary (GD) over a threat on him and his family, said his son Suprio Sikdar.
Police picked him up from his office around 6:30 in the evening but did not admit to have arrested him until midnight.
Muntasirul Islam, deputy commissioner (media) of Dhaka Metropolitan Police, said around 7:30pm that the journalist was not arrested and that he was taken to "discuss" the threats. "He will go home after that."
Contacted again around midnight, Sazzadur Rahman, DC (west) of Detective Branch of police, said they arrested Probir.
He added that the journalist was being taken to Faridpur Sadar Police Station where the case was filed.
Suprio said a Sher-e-Bangla Nagar police team led by Sub-inspector Abdul Jalil went to the office of online news portal (www.u71news.com) around 6:30pm.
The SI asked Probir, editor of the news portal, to go with them to the police station to discuss the GD.
The cops first put him on a police van, but it stopped at Khamarbari, a few hundred yards from Sagar-Saikat Market from where the journalist was picked up.
They then changed the car and drove away, Suprio said, adding he started following the car on a motorbike and saw police take his father to the DB office at Minto Road.
Probir, also editor of Bangla 71 newspaper, wrote a series of reports titled "Sei Razakar" in Bangla daily Janakantha against some alleged war criminals, including a controversial businessman from Faridpur and now condemned war criminal Abul Kalam Azad, also known as Bacchu Razakar, in 2001, according to the draft GD.
It also mentioned that he was attacked in April 2001 following his write-ups. In the attack, he lost a leg and also strength and mobility of one hand.
Probir, who also worked for daily Samakal and Dainik Kalerkantha, posted the draft GD after police allegedly refused to take it.
Recently, he wrote on his Facebook page that a minister from the area was grabbing land.
One post mentioned that he went to file the GD on July 22, as he and his family were under threats, but police did not register it.
Frustrated, he uploaded the draft GD on Facebook three days later where he said, "I place the general diary before people's court."