Tk 10 lakh reward for militant who returns to normal life: Rab
Joint drive against 'militants' in Bogra ends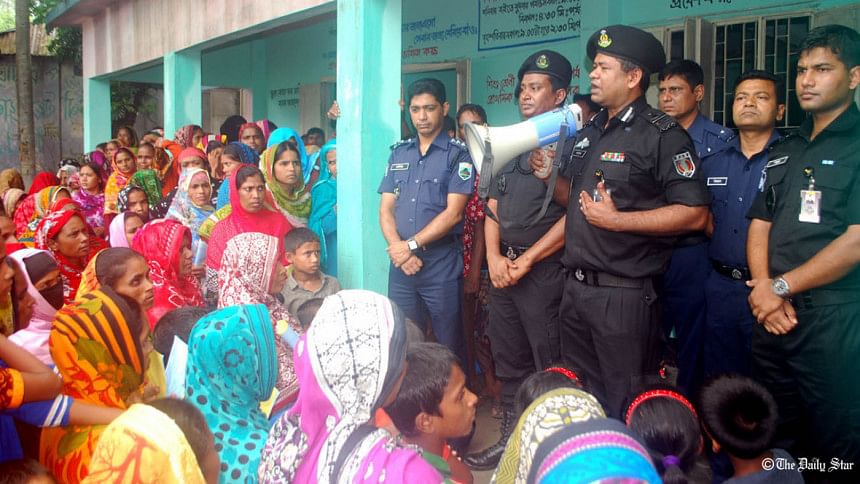 Benazir Ahmed, director general of the Rapid Action Battalion (Rab), today announced Tk 10 lakh reward if any activist of militant outfits returns to normal life and gives specific information about their activities.
Apart from this, Tk 5 lakh will also be given to anyone who provides specific information about activities of terrorist and militant groups, the Rab DG also said.
Benazir Ahmed made the announcement while addressing a press conference at Sariakandi upazila in Bogra after the joint forces carried out a crackdown in the district.
Rapid Action Battalion (Rab), police and paramilitary force Border Guard Bangladesh (BGB) conducted the anti-militancy drive, reports our local correspondent.
Benazir also expressed his firm determination saying that they will unearth all militant dens in the country. 
"The militant outfits will be rooted out wherever we find them," he added.
Around 500 Rab, 200 police and 100 Border Guard Bangladesh members divided into eight groups carried out drives at different places in the two upazilas.
The drive was initiated following information provided by Shariful Islam alias Shafiul Islam alias Saiful Islam, who was held from the scene for his alleged involvement in the attack at Sholakia on the Eid day.
Three machetes, three knives and six jihadi books were recovered during the drive that started at 1:00am and continued till 4:00pm.