Innovative fish farming in once barren land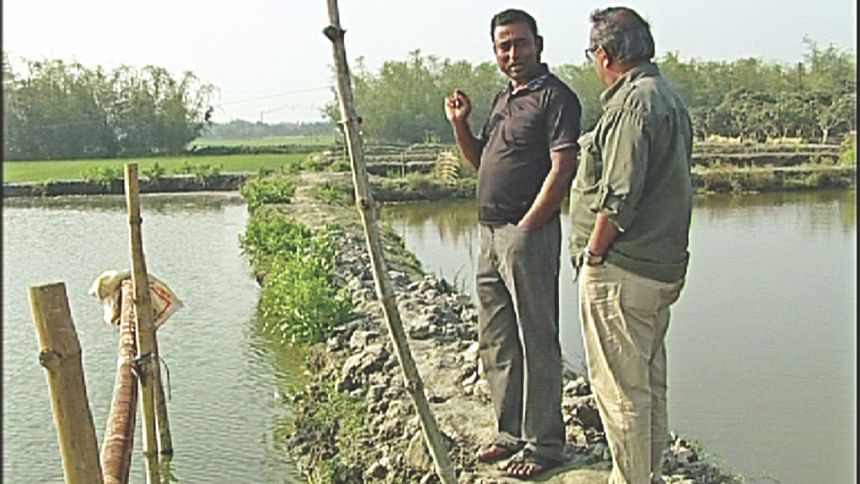 It is a surprising tale. In Rangpur region, in the northern part of Bangladesh, no one was able to do well in fish farming. Although Teesta, Brahmaputra, Ghagot, Dharla and other rivers flow across the region, still during the dry season water crisis does not allow fish farming in the region. The Gangachhara region was born on a dead river called Gaang, but and it now sees remarkable success in fish farming. A fish farmer named Mahfuz Shah did the miracle.    
Mahfuz is a fish farmer with indigenous knowledge. He has tried to understand the latest advancement in fish farming technologies. He is a self-taught farmer. That is why his confidence is super high. Now, he knows the many mysteries of fish farming.
In 2009, he started off with only one pond with credit from a mahajan (money lender). Now, he has expanded it to 14 ponds. This is certainly a rare success.
"I always had the confidence that I'd be able to do really well with my fishes," says Mahfuz.
"And here I am, doing pretty well and earning my livelihood," adds Mahfuz. Bangladesh is performing really well in fish farming sector and now stands fourth in producing sweet water fish, and farmers like Mahfuz have played a key role in this process.
In a region dominated by tobacco farming for ages, fish has been a real surprise for sure in the hands of Mahfuz.
"My country is a food secure country, but protein is also important as we all know. My focus is on that," says Mahfuz.   
Mahfuz also believes that Rangpur region will surpass the fish farming success of Mymensingh district in a short time.    
Mahfuz has not only been successful himself, but has also encouraged others. Many young entrepreneurs were attracted to fish farming following the success of Mahfuz.
I met Yousuf, a young fish farmer from Thakurdaho. "I was unemployed. But, Mahfuz Bhai showed me the way and encouraged me towards fish farming," says Yousuf. "I tell you, I am doing very well now."
All over Gangachhara, there are hundreds of ponds where the fish farming revolution took place. Mahfuz has also triggered the activities of the Department of Fisheries with his tremendous work.
"Mahfuz is an icon and certainly an idol for many. Definitely, we're going to support him and all the fish farmers of the region," says Aminur Rahman, assistant director of the Department of Fisheries in Rangpur.
Mahfuz is a man whose love is rooted in the ponds. He never looks down. His aims are sky high. His success has also inspired the local UNO, Abu Zafar. He also spends his time at Mahfuz's farm and learns the new techniques. He is actively helping others for the extension of fish farming in the region.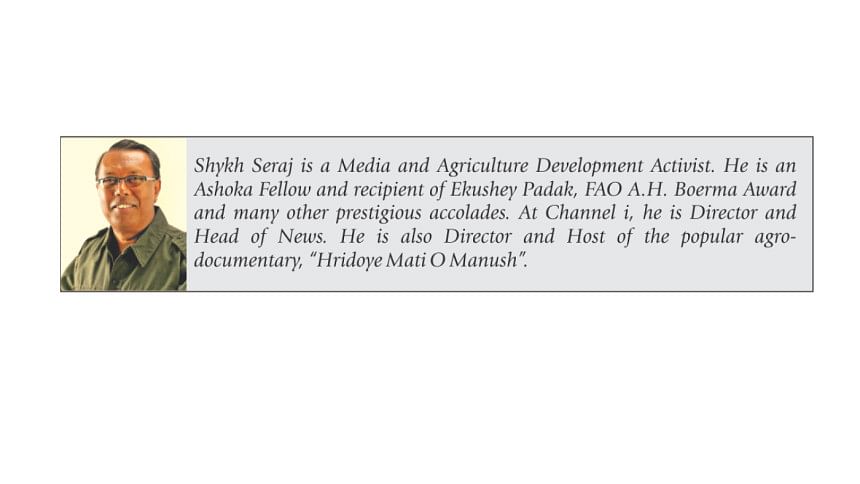 There are many farmers who are using their cultivable lands for fish farming as well, something that I saw many years back. Rangpur farmers have taken this technique now to grow more fish.
Many traders come to Gangachhara from nearby districts to sell fish fry.  Mahfuz aims at preserving the indigenous fish varieties. He is already doing a lot of research on his own. 
Dear readers, real endeavours make one successful. Mahfuz is such a progressive farmer who has done almost the impossible. He doesn't want individual success. He wants the whole community around him to see big dreams and succeed.
"I want to make Rangpur the home of fish," says Mahfuz firmly. And, he's keeping up the work relentlessly, yet silently.
I believe he'll be more successful in the coming days and change the scenario of fish farming in the northern district of Rangpur.