Innovative bridge
56 youths in Manirampur upazila build the floating bridge, to be opened on January 1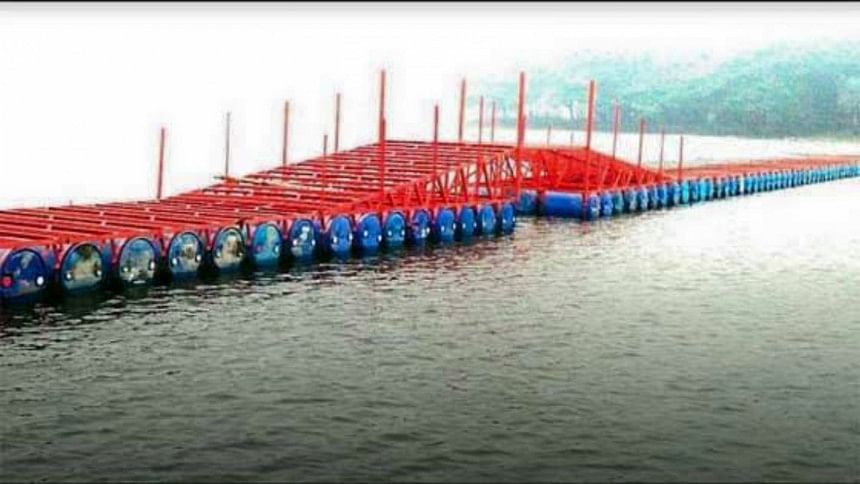 An innovative floating bridge, aimed at easing communication from Jhampa village to Manirampur upazila headquarters via Rajganj Bazar under Jessore, waits opening on January 1.
Thousands of people including school and college going students from Jhampa village and nearby areas are going to get better communication opportunity, as they will be able to cross the bridge on foot as well as small vehicles.
Jhampa Village Development Foundation comprising 56 youths conducted the work with the spontaneous help of the villagers.
The thousand-foot-long bridge, made of 839 plastic drums, 800 iron angles and 250 four-foot-wide iron plates, involved a cost of around Tk 70 lakh, said Mehedi Hasan Tutul, president of Jhampa Village Development Foundation. 
"The story goes back to five years ago. A few people including Asaduzzaman, a local teacher, were sitting on the banks of the Baor. Seeing a sand lifting machine that was kept floating on plastic drums, Asaduzzaman suggested that such drums could also float a bridge," Tutul said.
They started spreading the idea to the villagers and fund collection for the purpose followed.
"Early this year, the foundation was formed, comprising 56 youths of the village. Locals in general cooperated. We started work for construction of the floating bridge in August," Tutul said.
"As we don't have any technological knowledge for building the bridge, we consulted with the upazila engineer and a few officials of Jessore Deputy Commissioner's Office. Everyone appreciated the idea of building creating an environment-friendly bridge.
"The bridge will be opened for public use on January 1. The funding for maintenance of the bridge will also go on as motorbikes, vans, three-wheelers and private cars will pass the bridge by paying small amounts," said the organiser.
Manirampur Upazila Nirbahi Officer Obaidur Rahman said, "I have seen the construction work of the floating bridge over the Jhampa Baor (a water body). The initiative will benefit thousands of villagers."