Indian war veteran's letter to Modi, Hasina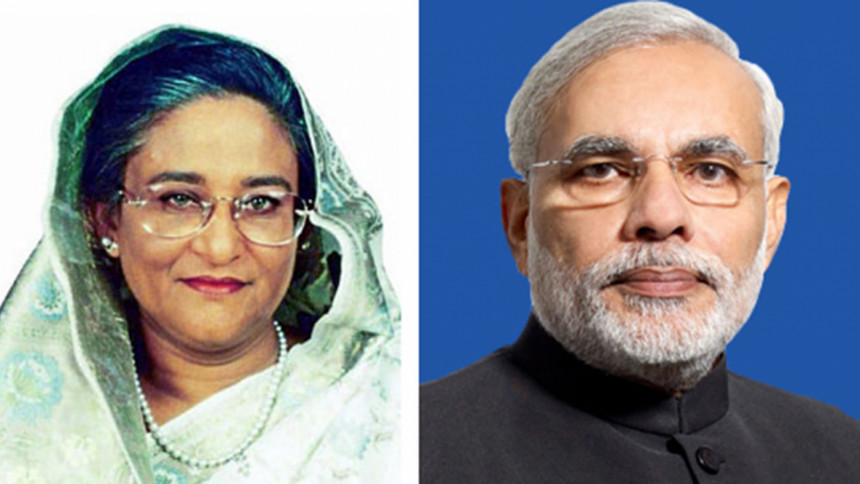 Brig RP Singh, VSM (retd), an Indian war veteran who participated in the 1971 Liberation War of Bangladesh, has written an open letter to the prime ministers of India and Bangladesh.
The letter is as bellow:
Open Letter to Prime Ministers of India and Bangladesh
by
Brig R P Singh, VSM (Retired)
Dear Prime Ministers Mr. Narendra Modi and Ms Sheikh Hasina,
    I am a veteran of Bangladesh Liberation War of 1971 who witnessed and participated in all the events from 26 March to 16 December 1971. I am addressing you jointly on the occasion of historic visit of Indian Prime Minister to Bangladesh. This is not an ordinary visit of one head of government to its neighboring country, because Indo-Bangladesh relationship is unique. Their citizens and soldiers had shed blood jointly for a bright future of posterity of both nations. Veterans like me had fought not only against a common enemy but against the savages who had lost all human values. The martyrs of 1971 jointly invested their blood for prosperity and peace for future generations of both countries which makes Indo-Bangladesh relationship exceptionally distinctive.
   At this time forty-four years ago; the sense of border had disappeared from the hearts and minds of seventy five million Bangladeshis. The Indians had opened the doors for their Bangladeshis. India was a poor country then, but had a heart bigger than Mount Everest. We shared our poverty with our Bangladeshi brothers and sisters. We in the Indian Army never thought that Bangladesh Army or Mukti Bhaini belonged to a different country and nor considered that we were fighting for another nation. I crossed the Redcliff line hundreds of times in 1971 and so did the Bangladeshi friends. But today there is a fencing which is guarded 24X7 by border security forces. Apart from man-made fencing a psychological barrier between the two people has emerged which is a cause of concern.
    In 1971 BSF was looked up by the Bangladeshis with love and hope, as life saver. It was the BSF which initially provided help to Mukti Bahini for fighting against the occupation forces. Today the same BSF is considered a killer, is dreaded and hated by Bangladeshis. I could never imagine that things will change so soon and so drastically. Post 1971 events have brought this unfortunate situation. Whenever I meet my Bangladeshi friends we exchange anguish and wonder have our efforts gone waste?
  In 1971 India hosted ten millions Bangladeshi refugees with meager resources. Indian Army and Mukti Bahini trained together including more than hundred officers of First and Second War courses. I was part of the team which taught Bangladeshi cadets the art of warfare amongst whom was also Prime Minister Sheikh Hasina's younger brother, Shaheed Shiekh Kamal. Those cadets became our lifetime friends. Later both forces fought under the Joint Command of Lt Gen JS Aurora and liberated Bangladesh in merely twelve day's fighting.  There is hardly any family in Bangladesh which was not affected by the genocide and atrocities of Pakistani Army in 1971. The people in the age group of fifty five and above nostalgically recollect the Indian contribution in the Liberation War. That is why when Field Marshal SHFJ Maneksaw and Gen JS Aurora died there were more condolence meetings in Bangladesh than even in India.   
     I have known Bangladeshis for more than forty-four years. They are not Hindus, Muslims, Christians or Buddhists or followers of any other faith but their religion is humanity. The Bangladeshi Muslims celebrate Durga Pooja, Baishakhi and Falgun with more vigor than even their Hindu counterparts. Like India, Bangladesh National Anthem was also written by Great Poet Rabindranth Tagore whose music is played in every home. Bangladeshis love their mother language more than even the Bengalis west of Redcliff Line. The Bangladeshi Muslims are the true Muslims (barring some exceptions) their example needs to be emulated by everyone, world over.        
  Prime Minister Sheikh Hasina's family made an exceptional supreme sacrifice for their motherland; with no parallels in the history.  And Prime Minister Mr. Modi has sacrificed his family life for his nation. Thus dear Prime Ministers you are not the ordinary heads of Governments. You are most suitable persons to reverse the situation and fulfill the dreams of hundreds of thousands of Liberation War veterans like me on either side of the Redcliff Line who fought for having everlasting brotherly relations.
   Dear Prime Minister Mr. Modi you are known to do things which others can't even perceive. You have got the LBA ratified by Parliament, which none of your predecessor could do in last four decades. You have laid sound foundation for big leap forward for India. Please ensure that brotherly neighbor Bangladesh is part of a joint progress model. Both of you must build consensus between all political parties on major economic, political and strategic issues jointly which are affecting our nations. Take immediate steps to harness the millions of cusecs water from 54 rivers which flow through Bangladesh into Bay of Bengal from India, causing havoc by floods in both countries annually; by building mini dams along the foothills of Himalayas and Mizo Hills. The saved water and electricity generated will meet the requirement of millions people on both sides of IB.
   India has more resources than Bangladesh but there is surplus manpower in Bangladesh which can be absorbed by India (on work permits) as the multiple projects take off. Identify the key areas where both countries can cooperate for 'Make in India and Bangladesh.' Create ancillary industries in Bangladesh for the projects planned in NE states. Identify the manpower intensive industries, which could be exclusively put in the domain of Bangladesh.
   The biometric identification of all citizens of both countries must be done speedily to eliminate illegal-crossing of IB. The BSF must maintain its human face. Even if some illegal intrusion takes place the sky is not going to fall. There are means to track-with advanced technology-identify, apprehend and deport the culprits. The trigger happy tendency of border guards must be curbed ruthlessly. The border areas need to be jointly developed fast. Joint mechanism of curbing border crime needs to be honed further. The politicians and media must be cautioned not to use offensive language against each other on thorny issues cropping up between neighbors.
   Prime Minister Sheikh Hasina has done a lot to curb terrorist hubs in Bangladesh. She is often branded as 'Indian Agent'. She should not worry about such tags because it is a legacy of Pakistan, whose rulers used such labels for anyone struggling for betterment of Bengalis. Fazlul Haque, Maulana Bhasani and even her father, Bangabandhu Sheikh Mujibur Rehman, were also branded as Indian Agents. She should build consensus for facilitating seamless transit facility to India-rail, road, inland water transport, pipelines and electric transmission lines- which is needed for progress of India's NE states. The economy of NE states and Bangladesh is geographically and historically intertwined. Both countries must keep this in mind while preparing a joint model of progress of the region and reaching out to South-East Asia. Having met Prime Minister Sheikh Hasina and knowing her and her family, I am fully convinced that she has got plenty of goodwill for India. She also enjoys tremendous goodwill in India. These are assets which must be used for betterment of the people of both countries.  
   During 1971 Mukti Bahini had six major training camps in India, including Murti Camp where First and Second War Course officers were trained. Hundred thousand freedom fighters were trained in these camps. They nostalgically remember these places and are emotionally attached. Some monuments in memory of martyrs can be erected at these places with nominal roll of trainees and small museums. Visa must be given, especially during Bangladesh Independence and Liberation days, for the freedom fighters and their families' visit to these places. Indian Army can organize commemoration functions on these occasions. The memory of cooperation during Liberation War must be kept alive to strengthen our relationship.    
  Dear Prime Ministers you have enormous responsibility for restoring the brotherly relationship between our two nations. If the citizens of both countries risked so much to dislodge the enemy of humanity in 1971 can't you both dispel all misgivings and take the two nations forward on the path of progress, prosperity, peace and goodwill. As soldiers we did our bit to create harmonized relationship in 1971. Can't great people like you even restore that atmosphere again? I am sure you will, because it is only two of you who can do that. One and half billion pairs of eyes are looking up to you with hope. Please honor their aspirations.
    With best wishes for the joint journey forward,
     Yours sincerely- Brig R P Singh, VSM (Retired)
  PS  I specially request Miss Mamta Banerjee to be generous. As a teenager student in 1971 in Kolkata she must have also worked for the Bangladesh refugees. "Didi if few thousand cusecs extra water goes to Bangladesh it will not matter because they are our kin. Be as magnanimous as you were in 1971."