Human trafficker held in Narsingdi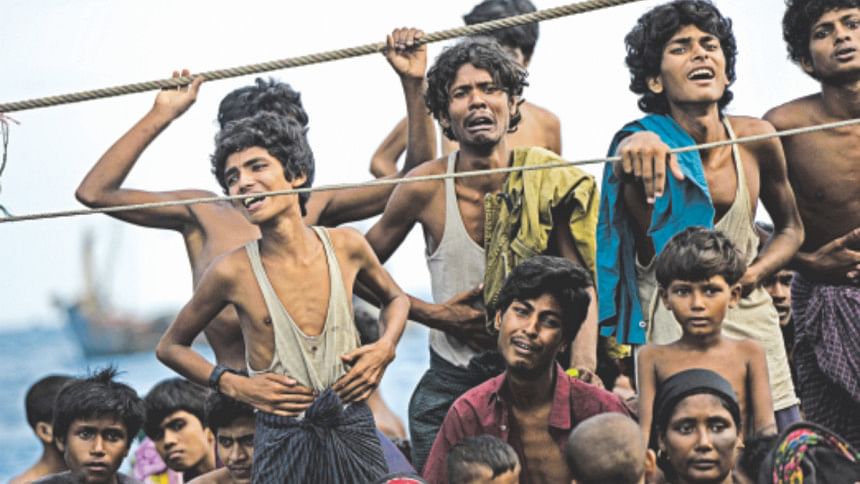 Police in Narsingdi today arrested a man on charge of trafficking dozens of youths to Malaysia through the Bay of Bengal.
Nuru Mia, 45, was picked up after a case was filed under the Prevention and Suppression of Human Trafficking Act 2012 by Ahmed Ali, father of trafficking victim Mohammad Sohag, 16, who was repatriated from Malaysia early in July, police said. 
Sohag of Char Basania village in Narsingdi Sadar upazila is one of several hundred boat people rescued by the Malaysian coastguards in May this year when Thailand began a crackdown on the human traffickers following discovery of mass graves believed to be of Myanmar Rohingyas and Bangladeshis since May 1.
Ahmed Ali had lodged the case with Narsingdi Sadar Police Station in mid-May this year as Nuru Mia, 45, of Char Basania lured Class-VIII student Sohag with a job in Malaysia in late February and took Tk 2.5 lakh from his family, but could neither take Sohag to Malaysia nor bring him back home.
"Rather, Sohag was beaten in the ship. Sohag told us this from the ship by phone and told us to pay money to Nuru Mia," Ahmed Ali told The Daily Star by phone.
However, meanwhile, Nuru Mia also filed a case last week with a Narsingdi court, accusing Ahmed Ali and Sohag of trafficking Nuru's nephew, said Apple Mahmud, head of Police Bureau of Investigation (PBI) in Narsingdi.
"On that basis, we asked Ahmed Ali and Sohag to come to our office. As we interviewed them and saw related documents, we asked Nuru Mia to come to our office and arrested him as he came to the police station around noon," he told The Daily Star by phone.
"From the accounts of the complainants, we suspect that Nuru Mia is a member of an international human trafficking network," he said.
According to Apple Mahmud, in last one month PBI received 10 cases related to human trafficking and arrested five alleged human traffickers in Narsingdi in last one month.
Media reports suggest Narsingdi, Narayanganj, Sirajganj, Cox's Bazar are the four districts from where a large number of youths were trafficked to Malaysia through the sea.
According to the police headquarters, 573 alleged traffickers were arrested in connection with 442 human trafficking cases under the Prevention and Suppression of Human Trafficking Act 2012 during January and June this year. However, only three were convicted.
The UN Refugee Agency says 88,000 Rohingya and Bangladeshis crossed the Bay of Bengal between January 2014 and March 2015. An estimated 300 died in the sea.