Anup Chetia 'handed over' to India
He was freed on completion of jail term and expression of interest to leave Bangladesh, says home minister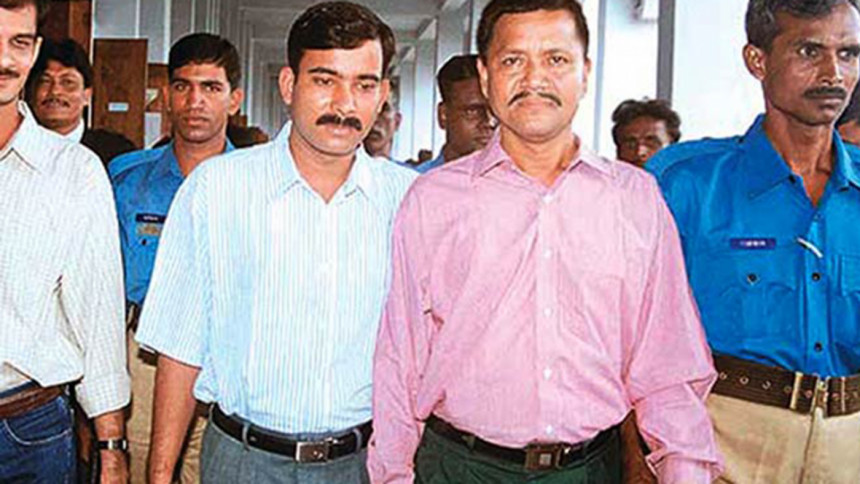 In a major boost to bilateral security cooperation, Bangladesh today handed over to India Anup Chetia, leader of India's top insurgent group United Liberation Front of Asom (Ulfa), 18 years into his arrest in Dhaka for trespassing.
Bangladesh Home Minister Asaduzzaman Khan Kamal denied it primarily, saying he was not aware of any such development. But around one and half hours later, he said the government "freed" Chetia on completion of his detention order.
"Anup Chetia was detained under the law of the country and his jail term was completed. As he is a foreigner and expressed his interest to leave the country, we have freed him," the minister told reporters at a programme organised to mark annual Fire Service and Civil Defence Week in Mirpur in the capital.   
READ MORE: India may swap Subrata Bain, Sajjad for Anup Chetia
Chetia, who was in Bangladesh since his arrest in Mohammadpur area of Dhaka on December 21, 1997, was handed over to a team of India's Central Bureau of Investigation (CBI) at the personal intervention of Prime Minister Narendra Modi and through active involvement of India's National Security Adviser Ajit Doval, reports our New Delhi correspondent.
The hand over took place this morning, according to highly-placed sources.
Meanwhile, the home minister, talking to the reports at the secretariat, said the members of Border Guard Bangladesh handed Anup and his two prison mates– Babul Sharma and Shakti Prashad who were arrested with Anup —to the members of Border Security Force of India.
However, he did not elaborate on the issue.
He further said they have been handed over after communicating with Indian embassy in Bangladesh.
The development follows the deportation to India of underworld don Chhota Rajan, one of country's most-wanted persons who was on the run for 27 years, by Indonesia.
IG Prison's statement on Chetia
Inspector General of Prisons Brig Gen Syed Iftekhar Uddin said, "Early today, Anup Chetia along with two of his associates Lokkhi Prashad, and Babul Sharma were handed over to delegates of Indian High Commission from the Kashimpur Prison."
"Anup Chetia himself appealed via the Indian embassy twice to be sent back to India. Based on his appeals and clearance from both countries, he has been handed over to the Indian High Commission," he added.
The IG prison was talking to journalists at a press conference at the prison directorate in Bakshi Bazar this afternoon. 
Chetia, one of the founding members of Ulfa and its general secretary, is wanted for murder, abductions and extortion in India.
He had sought political asylum in Bangladesh thrice in 2005, 2008 and in 2011 after Bangladesh police arrested him in December, 1997 and was subsequently handed down seven years of jail terms by two courts for cross-border intrusion, carrying fake passports and illegally keeping foreign currencies.
Despite the expiry of his prison term, Chetia was in jail under a 2003 Bangladesh High Court directive asking authorities to keep him in safe custody until a decision was taken regarding his asylum plea.
India had been pressing Bangladesh for deportation of Chetia for several years.
The Indian High Commissioner to Dhaka Pankaj Saran was in Delhi for the last two days as details of the handover were being worked out, sources said.
Earlier, Bangladesh had handed over some other top leaders, including Arabinda Rajkhowa, on December 2, 2009 along the border with northeastern Indian state of Assam. They have joined peace talks with the Indian government.
Another top Ulfa leader Paresh Barua, who heads the insurgent outfit's armed wing, remains on the run and is believed to have taken shelter in Myanmar.