'Sorry, Sir!'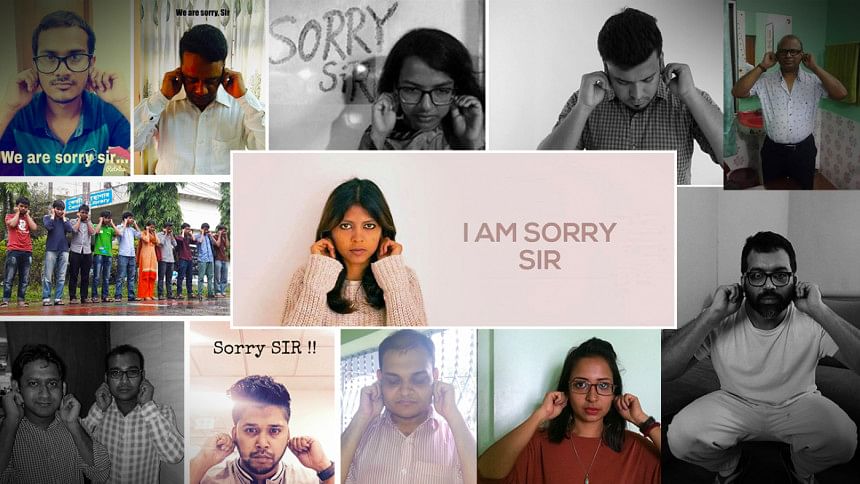 "We're sorry, Sir!"
This message – aimed to apologise for the humiliation meted out to the headmaster of a Narayanganj school – floods the social media.
An expression of helplessness, the gesture shows how a respected person like a schoolteacher can be subjected to insult at the hands of the powerful quarters. His helplessness appears overwhelming, bringing the netizens to express solidarity in peaceful gesture.
Login to Facebook, sign in to Twitter, it's all there – images of people holding their ears in a show of apologising with the hashtags #SorrySir or #wersorrysir or #WeAreSorrySir.
Media personalities such as Iresh Zaker and Rawnak Hasan are among those who have changed their Facebook profile photo in solidarity with the humiliated teacher.
Many have also posted status protesting the public humiliation of the teacher. 
General students of Shahjalal University of Science and Technology today stood in a human chain holding their ears protesting the public humiliation of a teacher.
They stood for half-an-hour in rain around 11:30am this morning near the library building for what they said "seeking apology to the teacher," reports our Moulvibazar correspondent.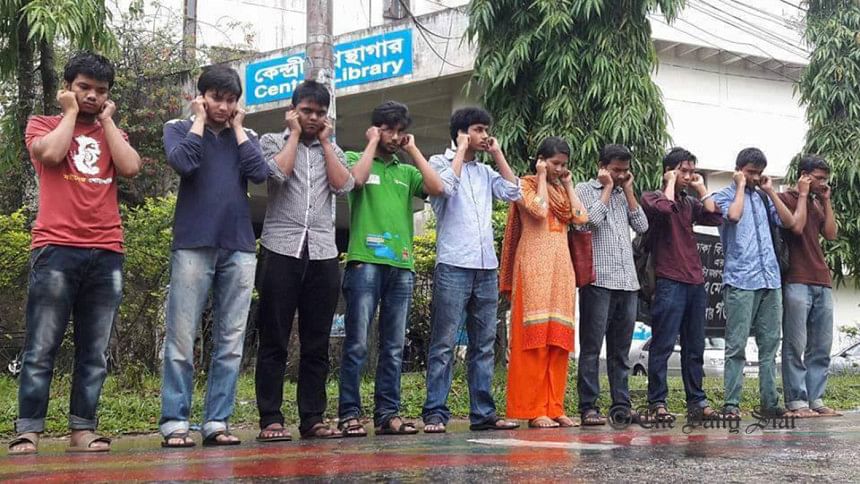 A headmaster of a school in Narayanganj was beaten up by a mob and made to do sit-ups holding his ears in the presence of local Jatiya Party lawmaker AKM Selim Osman last Friday.
Allegations against him were that he demeaned religion.
Public humiliation of Hindu teacher for 'anti-religious' remarks causing outcry on Twitter #SorrySir #Bangladesh https://t.co/x7AldMgu4Y

— Gönna Ketels (@goennaberlin) May 17, 2016
However, the victim, a Hindu community member, said the locals were provoked with false allegations and that a group of teachers of the school held a grudge on him as he refused to meet their unfair demands.
#Bangladesh #teacher #sorrySir https://t.co/qsqvnzLBiK

— swapan (@swapansg) May 17, 2016
The incident, that has a video circulating in the social media, drew widespread flak. Education Minister Nurul Islam Nahid and Law Minister Anisul Huq have condemned the incident.
State Minister for Foreign Affairs Md Shahriar Alam has also made a Facebook post condemning the incident. 
"We can't bear the shame of seeing the humiliation of a teacher – a teacher who taught us in our childhood," said Jahangir Noman, a student of the university and a participant, said.
"We are ashamed. Our demonstration is not only a protest, it is a token of apology to our teacher," he said.