Tailor killed in Tangail, 'IS claims responsibility'
Cops hint a 'derogatory comment' about Prophet Muhammad in 2012 might have led to murder, bike-riding killers use machetes, leave 2 bomb-like objects in a bag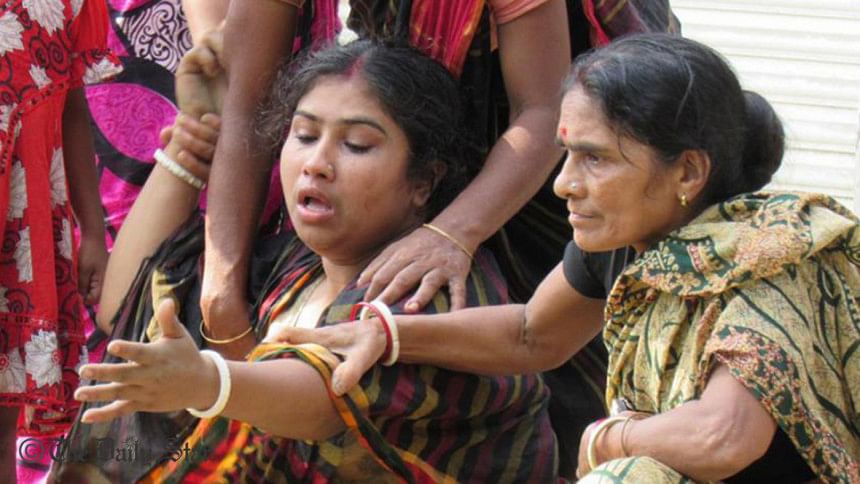 Bike-riding assailants today hacked a Hindu tailor to death in Gopalpur Upazila of Tangail.
Police primarily suspect that a "derogatory" comment about Prophet Muhammad (PBUH), which the victim Nikhil Joarder, 50, made in 2012, might be the reason for the attack.
Around six hours into the killing, a tweet posted by US-based SITE Intelligence Group said Islamic State had claimed responsibility of the murder.
The Daily Star could not independently verify it.
After several such killings earlier, SITE Intelligence Group was the first one to post tweets on the claims.
#ISIS claimed credit for murder of Nikhil Joarder, a Hindu, in Tangail #Bangladesh, saying he blasphemed Muhammad. pic.twitter.com/fdtOy2hPlD

— SITE Intel Group (@siteintelgroup) April 30, 2016
Joarder was sitting in his tailoring shop in Dubail village around 12:30pm when three persons appeared there in a motorbike.
"Two of them swooped on Nikhil with machetes and kept on stabbing him, confirming his death," Aslam Khan, additional superintendent of Tangail (Gopalpur Circle), told The Daily Star.
READ MORE: RU teacher killing: Unknown people sued, 'IS claims responsibility'
Another person was waiting on the motorbike so that they can flee immediately, the police official said quoting witnesses.
Nikhil was indiscriminately stabbed in the head, neck and some other parts of his body, he added.
READ MORE: Xulhaz 'killers' as seen in CCTV footage
The attackers left a black bag there, which contained two machetes and two bomb-like objects, our Tangail correspondent reports.
Police suspected that the bag might have been left for creating panic.
A bomb disposal unit from Tangail was expected to arrive there to defuse those when this report was filed.
READ MORE: LGBT magazine editor killing: 2 FBI reps meet Bangladesh detectives
Asked about the possible motive behind the attack, Abdul Jalil, officer-in-charge of Gopalpur Police Station, told The Daily Star that a case was filed against Nikhil in 2012 for making a "derogatory" comment about Prophet Muhammad (PBUH).
He said they primarily think it can be the reason for the murder.
Talking to The Daily Star, victim's wife Arati Rani Joardar said Joarder did not have any enmity with anybody. She said the case filed against her husband in 2012 is the only issue that can lead to the murder.
Among several possible motives, police are considering chances of militant link, said Saleh Mohammed Tanvir, superintendent of police in Tangail.