Hilsa becomes pricy ahead of Pahela Baishakh
A section of traders create artificial crisis of the fish in coastal areas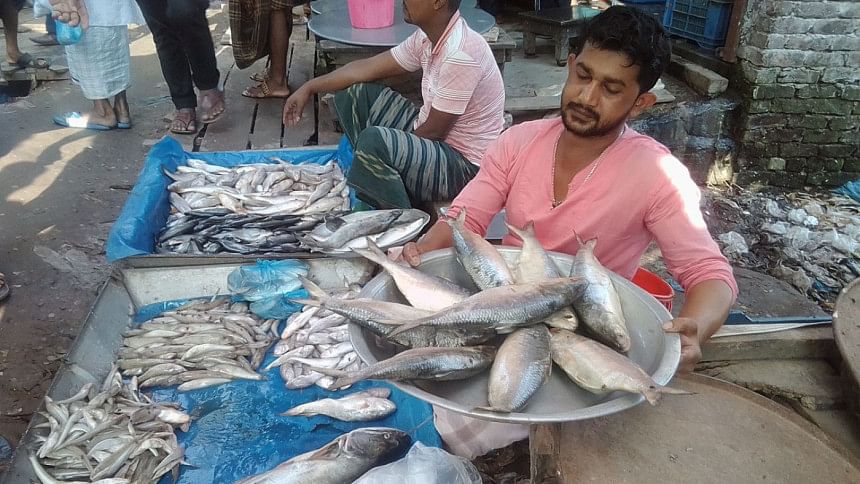 The price of hilsa fish has increased by three to five times in the markets in coastal areas ahead of Pahela Baishakh due to artificial crisis created by some traders.
A section of hilsa traders created an artificial crisis of hilsa fish in the local markets, although the price was low only two weeks ago.
During a visit to Patuakhali New Market, the biggest wholesale and retail market of hilsa fish, this correspondent yesterday found only a few hilsa traders selling the fish at retail level.
A one-kg hilsa is being sold in the wholesale market for Tk 2,200 to Tk 2,500, while it was only Tk 700 to Tk 900 two weeks ago. Hilsa of 800 grams to 900 grams is being sold at Tk 1,500 to Tk 1,700, while it was only Tk 500 to Tk 600, a 500 grams to 600 grams fish is selling at Tk 1,000 to Tk 1,200, while it was only Tk 200 to Tk 250.
Some hilsa traders send the fish to Dhaka, Rajshahi, Rangpur and Sylhet, where there is huge demand ahead of Pahela Baishakh.
Akhter Hossain, a retailer, said they are not getting hilsa from wholesalers due to the crisis in the local markets. A few traders sell jatka (fish less tahn 10 inches long) instead of big size ones in the local market to meet the demand, he added.
This correspondent found that a one-kg size hilsa is selling at Tk 1 lakh to Tk 1.10 lakh per maund (1 maund=40 kg), 800 grams to 900 grams size fish is selling at Tk 80,000 to Tk 90,000 per maund, and fish of 500 grams to 600 grams size is selling at Tk 65,000 to Tk 80,000 per maund.
Abu Hanif of Kalikapur area in the district town said he came to the market to buy hilsa but in vain as there is no medium or large size hilsa there.
A few traders are selling jatka to meet local demand, while medium and large size hilsa have become too pricey, he said.
District Fisheries Officer Dr Abul Hasanat said if anyone sells jatka fish they will take legal steps against him.