There was a crowd at Shukrabad Bus Stop in Dhaka around 2:45 pm after the two-hour-long torrential rain.
Everybody, including school students and women, was desperately waiting for rickshaw, but the number of three-wheelers was very low compared to the passengers.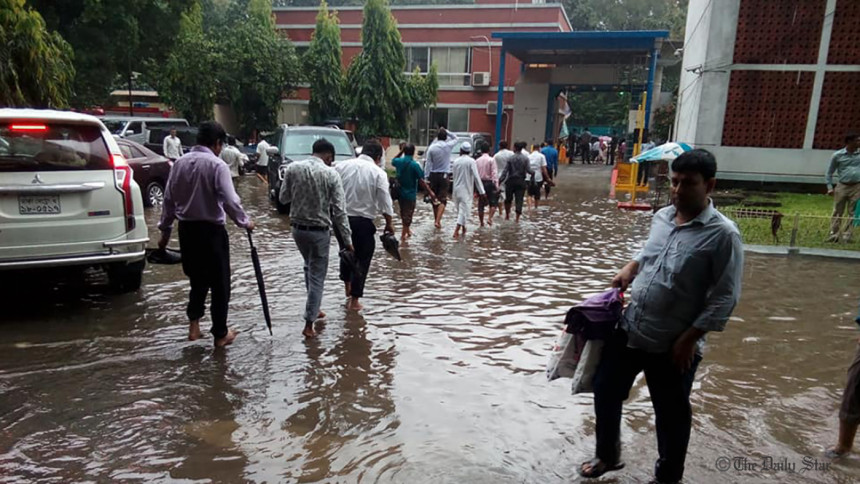 Because all of them were trying to cross a waist-deep "waterbody" on the road leading towards Shukrabad Bazar.
Raihan, a student of Daffodil University, along with his friend Rakib, somehow, managed a rickshaw for Tk 40 to cross only 200-feet long waterbody.
Failing to get any rickshaw, many of others compelled to cross the dirty water as they had no other option at that time.
Like Shukrabad, many other parts of the capital went under the knee-to-waist-deep water, causing immense sufferings to the city dwellers.
Met office today recorded 45.2mm rain in Dhaka from 12:00 pm to 2:15 pm, Ashraful Alam, meteorologist of Bangladesh Met office, told The Daily Star.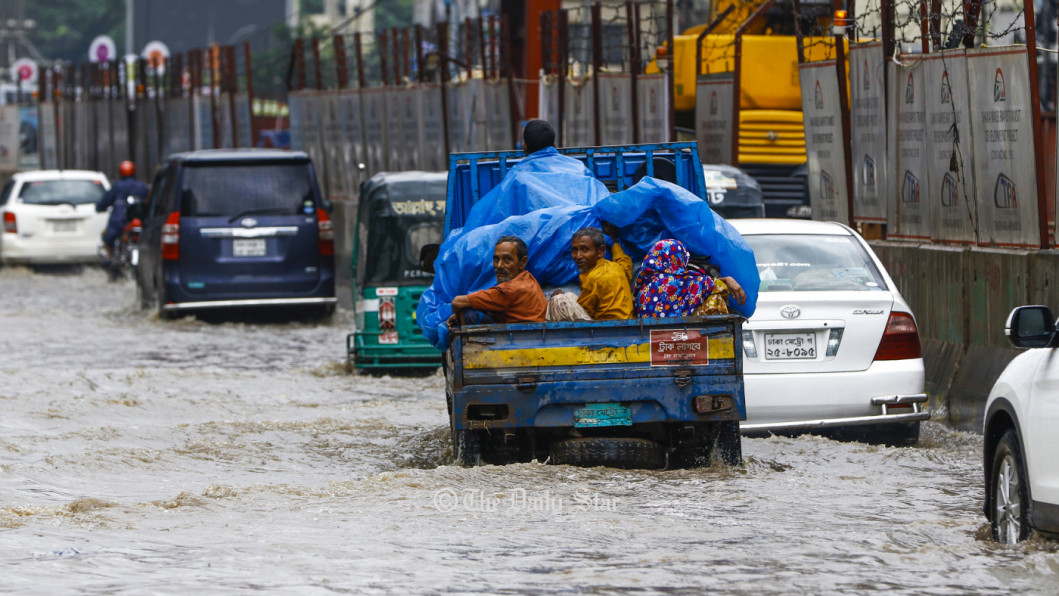 Owing to the rain, many roads including East Rajabazar, Mirpur, Motijheel, Karwan Bazar, Old Dhaka, Dhanmondi-27, Kazi Nazrul Islam Avenue, different parts of Mirpur and Green Road went underwater.
The students suffered the most in the afternoon shower as most parts of Dhanmondi went under rainwater. The school students and their guardians were seen completely drenched in the heavy rain when they were returning homes in knee-deep water.
While talking to The Daily Star, a businessman, said he took an Uber ride to reach his Dhanmondi residence around 2:00 pm. "When I was crossing Dhanmondi-27 intersection, stagnant water gushed inside the car."
"Due to heavy jam created during the rain, I got off the car and reached home walking through knee-deep water," he said.