Kamal, Hanif's effigies burnt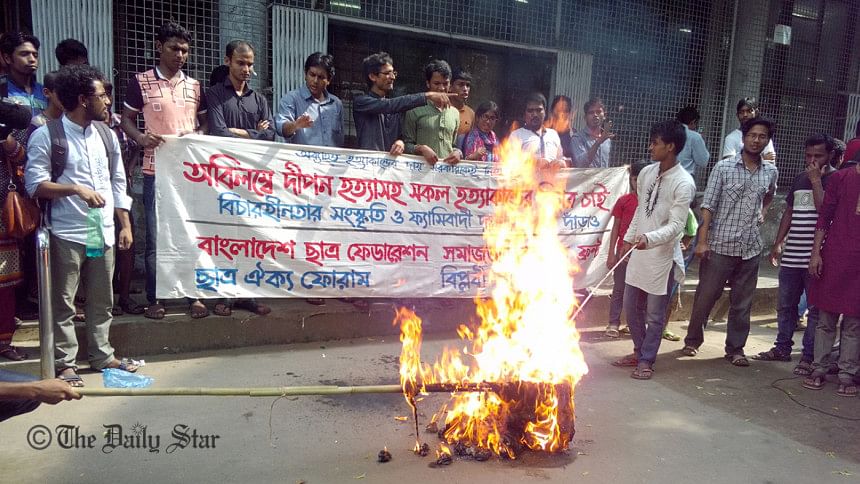 Effigies of Home Minister Asaduzzaman Khan Kamal and Awami League Joint General Secretary Mahbub-ul-Alam Hanif were burnt in separate demonstrations on Dhaka University campus and in Rangpur today.
Leftists burnt Kamal's effigy at DU campus in frustration over failure to arrest any attackers on the publishers and bloggers.
On the other hand, Rangpur Gonojagoron Mancha activists torched the effigy of Hanif for his "derogatory" comments about the father of slain publisher Faisal Arefin Dipan.
DHAKA UNIVERSITY
Leaders and activists of four leftist student organisations – Bangladesh Chhatra Federation, Samajtantrik Chhatra Front, Biplobi Chhatra Moitri and Chhatra Oikya – burnt the effigy of the home minister at a rally in front of the Central Library.
Frustrated over failure to arrest the attackers, the students criticised minister Kamal and demanded immediate trial of the perpetrators.
Prior to hold the rally, they brought out a procession that paraded different streets of the campus.
RANGPUR PRESS CLUB
Jasod Chhatra League activists burnt Hanif's effigy at Rangpur Press Club around 10:45am today while observing a six-hour countrywide hartal.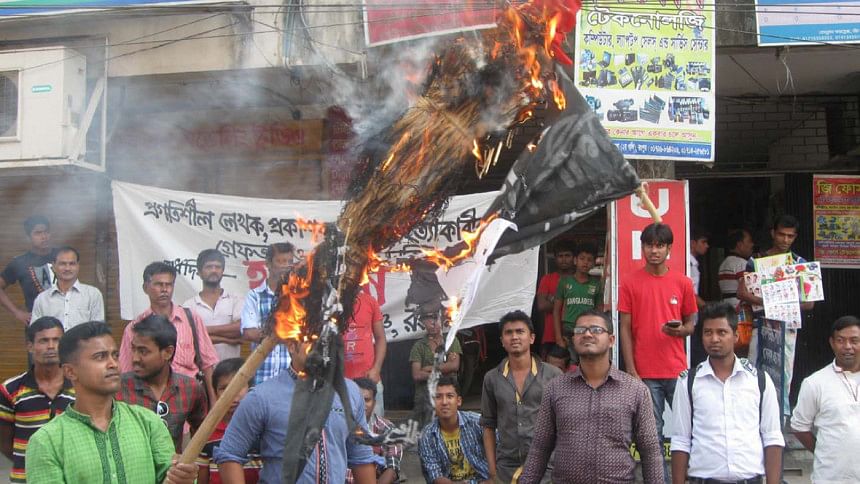 Hours after Dipan was hacked to death on Saturday, his father Abul Quasem Fazlul Huq told reporters, "I don't want any trial. I want good sense to prevail. Both sides – the one that's doing politics using secularism and the other that's doing politics using state religion – are pushing the country towards destruction. Let good sense prevail on both sides."
Coming down heavily on Dipan's father on Sunday, Hanif said, "He might believe in the same political ideology like the killers and does not want to bring the culprits to book."
The AL leader however withdrew his remarks later in the day.
The city witnessed a lax hartal and normal traffic movement on the roads and highways during the shutdown.