Hacked student of Sylhet college in critical state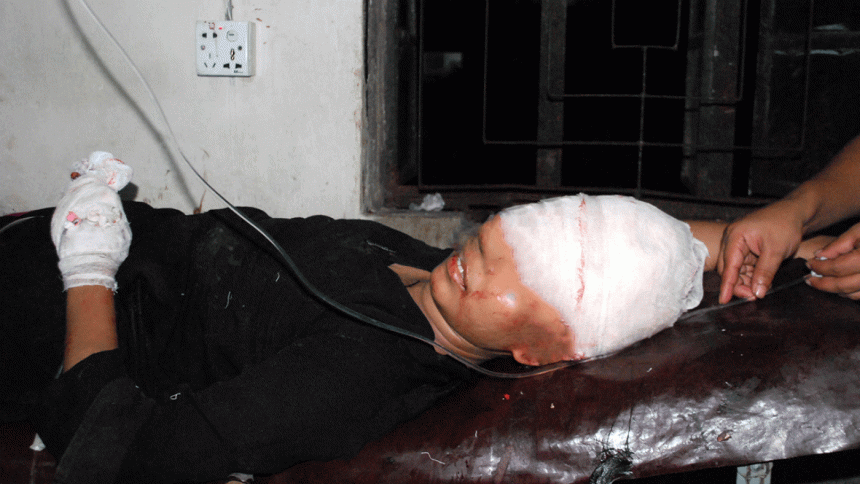 --Victim in a critical state
--Case filed against attacker Badrul
--Attacker to be brought to justice: Home minister
-- Protest pouring
The Sylhet Government Women's College student, who was waylaid and hacked brutally under broad daylight by a Chhatra League leader yesterday, is now in a "critical state".
Khadija Akter Nargis is undergoing treatment at neurosurgical intensive care unit of Square Hospital in Dhaka.
"Several injury marks were found in the victim's head, skull and brain. She is in a critical condition," Mirza Nazimuddin, director of the hospital, told reporters.
She also sustained severe stab injuries in her hands, he added.
Khadija was waylaid and hacked on her way to home from college by Badrul Alam, 30, who is assistant secretary of the ruling party's student front unit at Shahjalal University of Science and Technology (SUST).
The injured was initially admitted in Sylhet Osmani Medical College where she had undergone the first surgery. Later she was transferred to Square Hospital last night.
Hearing screams of the victim, locals rescued Khadija and caught Badrul from the spot and handed him over to police after giving him a good thrashing.
Case filed over stabbing
A case was filed with Shah Paran Police Station showing Badrul as lone accused, said Zedan Al Musa, additional deputy commissioner of police in Sylhet.
Victim's uncle Abdul Quddus filed the case around 2:30pm, the police official told our local correspondent.
"We will interrogate him (Badrul) and produce him before a court soon," he said.
Home minister's remark
Home Minister Asaduzzaman Khan Kamal firmly stated that the attacker will be brought to justice, no matter what his political association is.
The minister made the comment while talking to reporters at the secretariat.
Protest pouring
Meanwhile, several hundred students of the college today blockaded the Sylhet-Tamabil highway demanding exemplary punishment of the attacker.
The agitating students thronged the highway at Tilaghar area around 10:00am, halting traffic movement on the highway for around four hours.
They withdrew their protest around 2:00pm following an assurance from the police authorities to meet their demand.