Two 'robbers' killed in 'gunfights'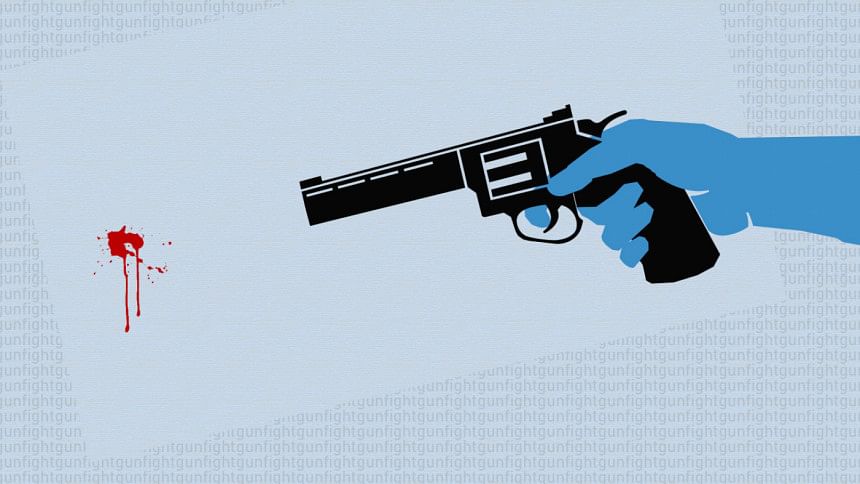 Two suspected robbers were killed in separate "gunfights" in Savar and Rangpur yesterday.
They were identified as Shamim Hossain, 45, and Md Masud Rana, 30, respectively.
According to Deepak Chandra Saha, officer-in-charge of Dhamrai Police Station, Shamim, from Jashore, was the ringleader of a notorious robbery gang in Savar. He was accused in at least eight cases, he said.
He also said Shamim was arrested by a police team from Kalampur area of Savar on Sunday evening.
Acting on Shamim's information, another police team conducted a drive in Ashulia's Tongabari area for arresting his cohorts. Sensing police presence, Shamim's cohorts opened fire, forcing the law enforcers to retaliate which triggered the "gunfight," the OC said.
Shamim was killed on the spot when he was caught in the line of fire while trying to flee.
The body was sent to Shaheed Suhrawardy Medical College and Hospital morgue for autopsy, the police official said, adding a pistol, one bullet and several sharp weapons were recovered from the spot.
RANGPUR 'GUNFIGHT'
Rana, who was killed in Rangpur's Gangachara upazila, was preparing for a robbery along with his accomplices, said Saifur Rahman, additional superintendent of police in Rangpur.
Acting on a tip-off, a police team rushed to the spot. Sensing police presence, the robbers opened fire, forcing the law enforcers to retaliate with gunfire.
Five policemen were injured in the incident and Rana was found dead, the ASP claimed.
Police sent the body to Rangpur Medical College for autopsy.
Police also claimed to have recovered a pistol and two bullets from the spot, our correspondent reported quoting police.