'Guest' kills top BRTA official's wife in Dhaka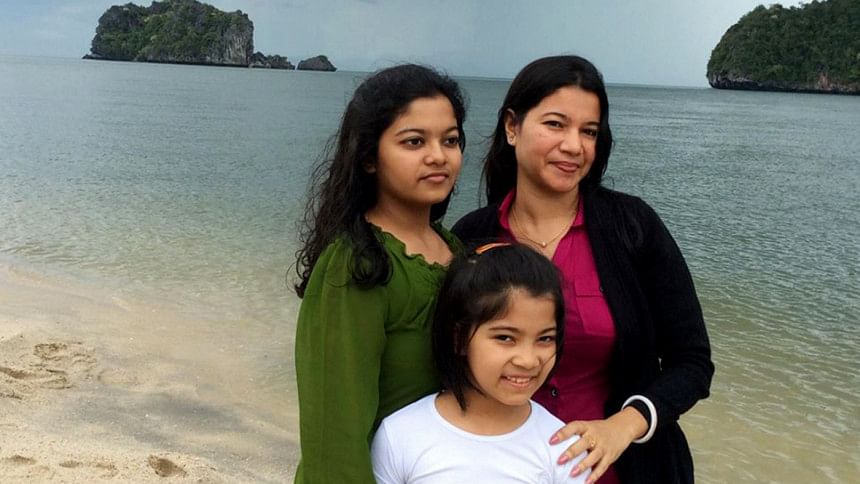 Posing as guest, a man entered the house of a senior official of Bangladesh Road Transport Authority (BRTA) in Mohammadpur last night and attacked the family members, leaving the official's wife dead.
The victim – Krishna Kaberi Biswas, 45 – was declared brought dead when she was taken to Dhaka Medical College Hospital (DMCH).
Badly injured BRTA deputy director Sitanghsu Shekhar Biswas was undergoing treatment at the intensive care unit of Metropolitan Hospital in Dhaka this evening when this report was filed. Their two daughters – Shruti, 15, and Aditiya, 8 – are also taking treatment there.
Motive behind the attack could not be known immediately, Azizul Haque, officer-in-charge of Mohammadpur Police Station, told The Daily Star.
The incident took place at the victims' house on Iqbal Road around 10:15 last night.
Talking to The Daily Star, Russel Hossain, a caretaker of Kazi Nazrul Islam University's liaison office housed in the same building, said one Jahir, aged around 30, went to Sitangshu's house around 8:30pm with some food items including cake and sweetmeats and flowers to celebrate his birthday which passed few days back.
At one stage, the man took out a hammer and hit in Sitangshu's head, according to Nazma, a tenant of a neighbouring flat.
As the BRTA official's wife and daughters rushed to save him, Jahir also swooped on them. Attacked, Kaberi fell on burning candles and sustained burn injuries. 
The man also set fire to other objects in the house.
Hearing the children's screams, people from neighbouring flats rushed there.
They recovered Kaberi and sent her to a local hospital first. Later she was taken to DMCH where doctors declared her dead.
Asked about the attacker, Nazma told The Daily Star that Sitangshu identified the man as Jahir.
"Jahir was supposed to attend the function as a guest when they observed his (Sitangshu's) birthday few days back but could not make it," Nazma quoted Sitangshu as saying.  
Meanwhile, DMCH source said Kaberi suffered 15 percent burn injuries and she died due to excessive bleeding from injuries in the head.
No case was filed in this connection till filing of this report this evening.