Growers worried as flower prices see drastic fall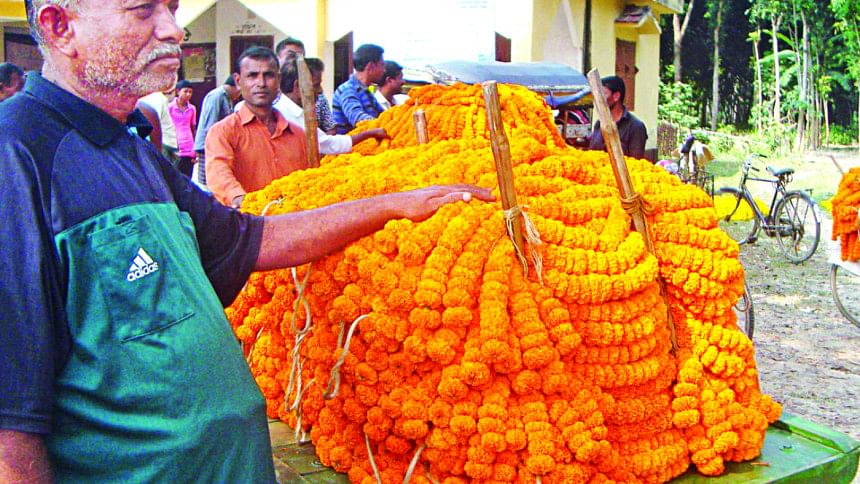 The growers in the famous flower producing district are worried due to drastic price fall of the item.
Around 15,000 farmers of 70 villages in Jhenidah Sadar, Kaliganj, Moheshpur and Kotchandpur upazilas under the district are cultivating flowers in 350 hectares of land, said sources of the Department of Agriculture Extension (DAE).
A month ago, a jhopa (comprising 800 flowers) sold at Tk 165/180 but the price has fallen to Tk 20/30 that does not cover even the harvesting cost, farmers said.
"I have cultivated flowers on 50 decimals of land at a cost of Tk 30 thousand but I had to sell the produce at only Tk 15,000," said Rezaul Karim of Kadirkol village under Kaliganj upazila.
Another grower Ansar Ali of Shishirkundo village under Kotchandpur upazila said his flower cultivation cost for two bighas this year stood at Tk 30,000 but he got only Tk 10,000 by selling the item.
He is now worried about repaying the loan taken for the cultivation, let alone profit.
Flower growers Samir Hossain, Kutub Ali, and Abul Kashem of Trilochonpur union under Kaliganj upazila have similar tales to tell.
The flower growers said they need a large shed for the sellers and buyers as flowers rot quickly in case of sudden rain.
Flower trader Motiar Rahman of Baliadanga village under Kaliganj upazila said the demand of flower has decreased in different cities including Dhaka and Chittagong as there is no fair or large occasion now.
The price of flower is likely to increase after two months, he said.
Shah Md Akramul Haque, deputy director of DAE in Jhenidah, said bumper production of flowers has led to its temporary price fall.