Grabbers choke Louhajang River in Tangail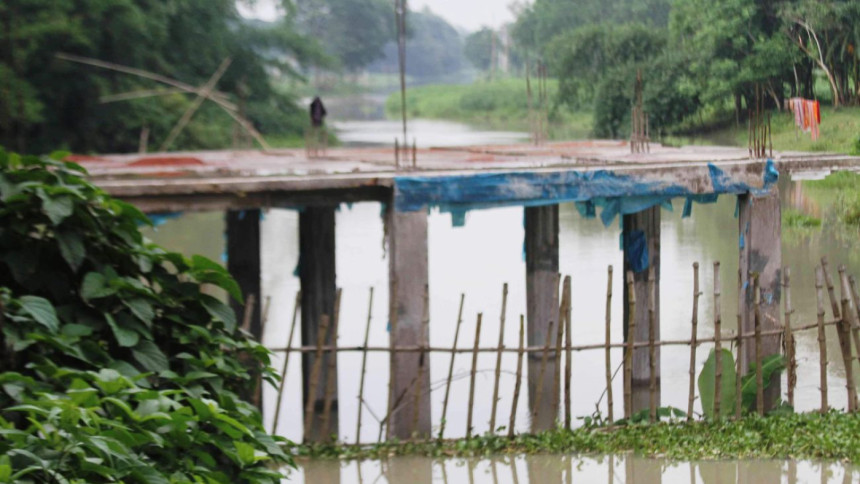 The Louhajang River in the district is heading towards virtual death due to mindless encroachment on the once profusely flowing river.
The river was at least 150 feet wide only two decades ago but mindless grabbing on both banks at different locations, especially in Tangail municipality area, has already turned it into a narrow canal, Water Development Board (WDB) sources said. 
At places it is only 60 feet wide now.
Following the CS and RS records, local land office detected around 2000 illegal structures including concrete houses that were constructed grabbing the river, said sources at the office of the assistant commissioner (Land) in Tangail Sadar upazila.
Originating from the Dhaleswari, a tributary of the Jamuna, at Baisnabbari in Sadar upazila, the 35-kilometre-long Louhajang River flows through Tangail town and falls into the Bangshai at Jamurki in Mirzapur upazila.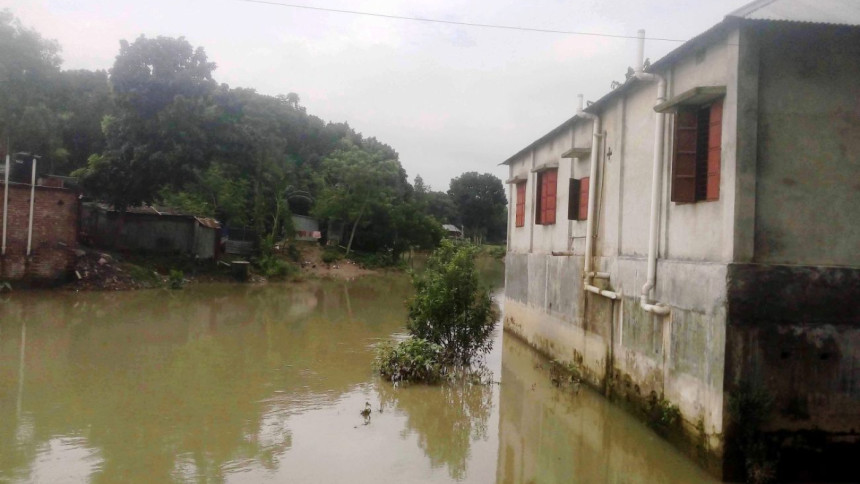 Till the 1980s, launches and big boats carrying merchandise used to anchor in Tangail and a road at College Para in the town was named Amghat as mangoes from Rajshahi were unloaded there, said several senior citizens of Tangail town.
The river, however, started dying after the Water Development Board (WDB) constructed a sluice gate near the confluence of Louhajang and Dhaleswari rivers in 1992 under its Flood Action Plan (FAP)-20.
Large boats stopped plying the route as the river lost navigability.
The subsequent years saw widespread encroachment on the river bank areas.
During a recent visit, this correspondent saw locals built different structures including houses and raised orchards, occupying the river areas on both sides.
Illegal concrete structures have been built in many areas including West Akur Takur Para, Akur Takur Para, Muslim Para, Enayetpur, Kagmara, Stadium Area, Paradise Para Beradoma, Dighulia, Kagmari, Kochua Danga, Aloa, and Mirer Betka areas in the town.
Moreover, sewage and garbage released from riverside homesteads and toxic wastes released from several mills and factories of Tangail BSCIC Industrial area at Taratia and  a textile mill at Khudirampur badly pollute the river, turning its water unusable not only for people but also for cattle, said green activist Masum Ferdous.
The townspeople, professionals and environmentalists held different programmes urging the authorities concerned to free the Louhajang River from the grabbers and polluters and arrange dredging for bringing back its navigability, he said.    
Contacted, Tangail Deputy Commissioner Mahbub Hossain said they will demarcate the AD (alluvium diluvium) line of the river when the water recedes and also conduct an eviction drive to free the river.