Govt sets 50kmph max driving speed in fog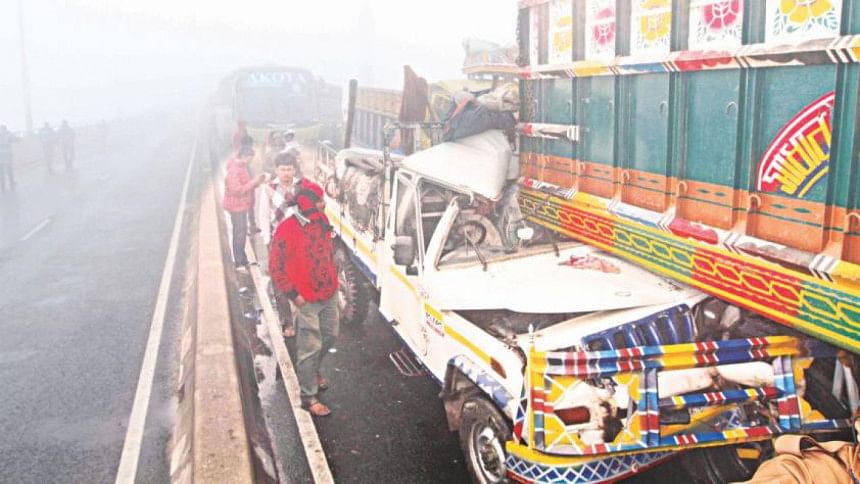 The government today set 50km per hour as the maximum driving speed during fog in view of the recent road crashes all over the country.
"During thick fog, all vehicles have to travel at a maximum of 50km per hour," said Road Transport and Bridges Minister Obaidul Kader at a press briefing.
The announcement came after a meeting of the National Road Safety Council (NRSC), chaired by Minister Obaidul Quader, held in the ministry this morning.
"Drivers must be extra cautious while driving in foggy conditions and they should follow some safety measures," Obaidul quader told the press.
Shipping Minister Shahjahan Khan, Dhaka South City Corporation Mayor Sayeed Khokon, transport owners, leaders and other stakeholders were present during the meeting.
The most shocking crash of recent times was on the Bangabandhu Bridge in Tangail last Saturday in an eight-vehicle pile-up that killed six people including a minister's son.
READ MORE: Crazy driving in thick fog costs 6 lives
On that very day of the crash, an association of transport passengers revealed a statistics saying that road crashes caused the death of over 8,500 people in 2015 alone.
Overtaking, exceeding speed limits, overloading, disregarding traffic rules, engineering faults in road constructions, reckless driving, using headphones while driving and consuming drugs before driving were identified as main reasons for the accidents.