'Govt sees if trees on Jessore road could be spared'
A delegation visits India in February, says a Roads and Highways Division secy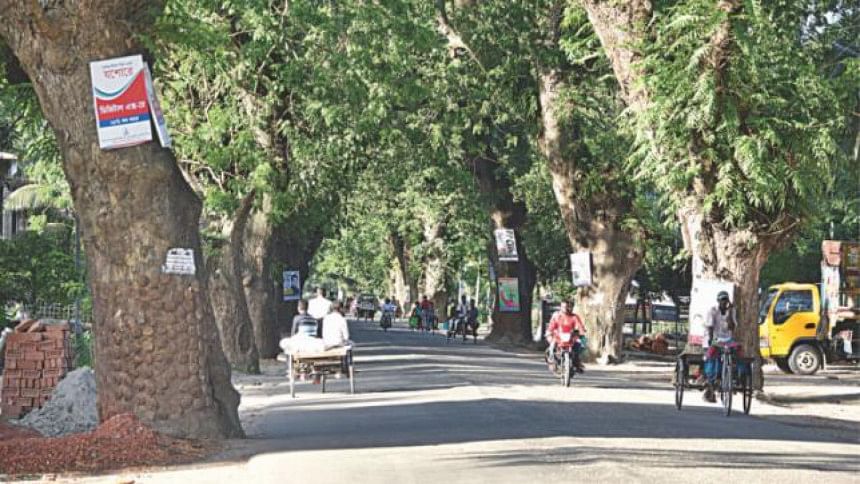 The government will look into options if the Jessore-Benapole road could be widened without felling the century-old trees.
After the High Court put a status quo on cutting down the trees in the backdrop of protests, the ministry has decided to learn from India how they solved such problems.
A delegation will visit India in February to see how they widened roads without cutting trees, Belayet Hossain, an additional secretary to Roads and Highways Division, told The Daily Star today.
The government will see if there is any option to widen the road without felling trees, the secretary said. "A decision in this regard will be taken after the team returns from India."
READ MORE: Trees to be traded for development
In the meantime, he said, the ministry has instead taken up a Tk 27 crore project for immediate repair work of the highway, "since it is a much-used thoroughfare in need of immediate repair."
Roads and Highways Division Secretary Nazrul Islam, when contacted, echoed the same and said a final decision on cutting trees will be taken after the team comes back from India.
Last July, the authorities took the decision of chopping down 2,700 trees to widen a 30-kilometre segment of the highway, many of which stand majestically on both sides of the road throughout well over a century.
As protests began to sprout from all corners of the country, a rule of the High Court on January 18 put a six-month status quo on the felling of trees.