Gonojagoron Mancha to hold coffin procession Thursday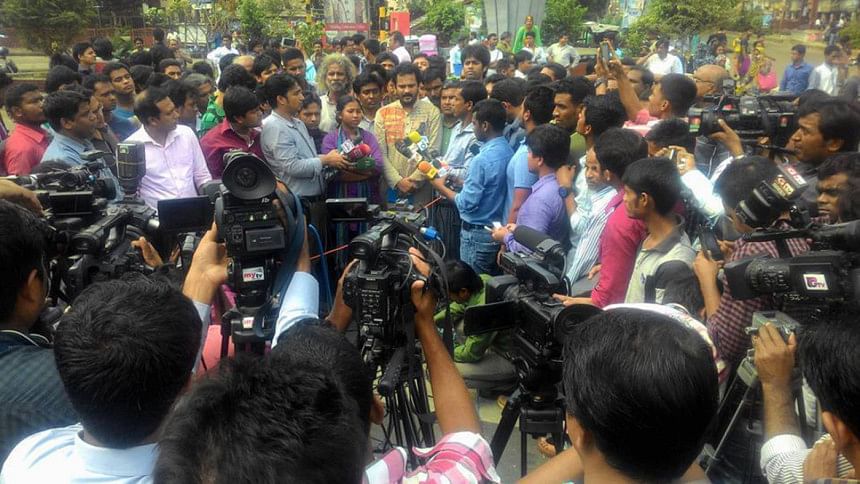 --Coffin procession Thursday
--Rally Friday
-- 6-hour hartal observed
-- 2 minibuses vandalised during shutdown
Protesting the recent attacks on publishers and bloggers, the activists and supporters of Gonojagoron Mancha will bring out a coffin procession towards the home ministry on Thursday.
They will also hold a rally at Shahbagh on Friday, Gonojagoron Mancha spokesperson Imran H Sarker announced after observing a six-hour hartal (shutdown) that ended this noon, reports Bangla daily the Prothom Alo.
While talking to reporters at Shahbagh, Sarker said the Mancha will take out procession carrying coffin towards the home ministry demanding punishment of the attackers.
Earlier the Mancha men have blocked the Shahbagh intersection in Dhaka as part of their countrywide hartal (shutdown) today.
All types of vehicular movement through the intersection remained suspended due to the blockade
ALSO READ: Freethinking Mauled Once Again
Meanwhile the hartal supporters allegedly vandalised two mini buses of Mirpur United Paribahan at Shahbagh around 6:45am, reports our DU correspondent.
They also brought out a procession and rallied in different adjacent places including in front of Shishu Park, Hotel Intercontinental and Aziz Supermarket.
Several leftist parties including Communist Party of Bangladesh (CPB), Bangladesh Chhatra Union and Chhatra Federation also expressed solidarity with the hartal.
In Savar, the Mancha activists blocked Dhaka-Aricha highway in front of Jahangirnagar University, bringing the traffic movement to standstill.
No subversive incident took place despite some traffic congestion on the highway, Ashulia Police Inspector (investigation) Dipok Chandra Shaha told Bangla daily Prothom Alo.
On Saturday, unknown assailants hacked Faisal Arefin Dipan, proprietor of Jagriti Prokashani, to death and critically injured Shuddhoswar's Ahmedur Rashid Tutul and bloggers Tareque Rahim and Ranadipam Basu.
ALSO READ: Wife files case over Dipan murder
Dipan and Tutul were publishers of slain secularist writer-blogger Avijit Roy who was also hacked to death near the TSC at Dhaka University on February 26.
Soon after the attacks, a group identifying itself as "Ansar Al Islam (AQIS) Bangladesh," claimed responsibility for the twin incidents through an email sent to different media outlets.