Gallant fight to win back husband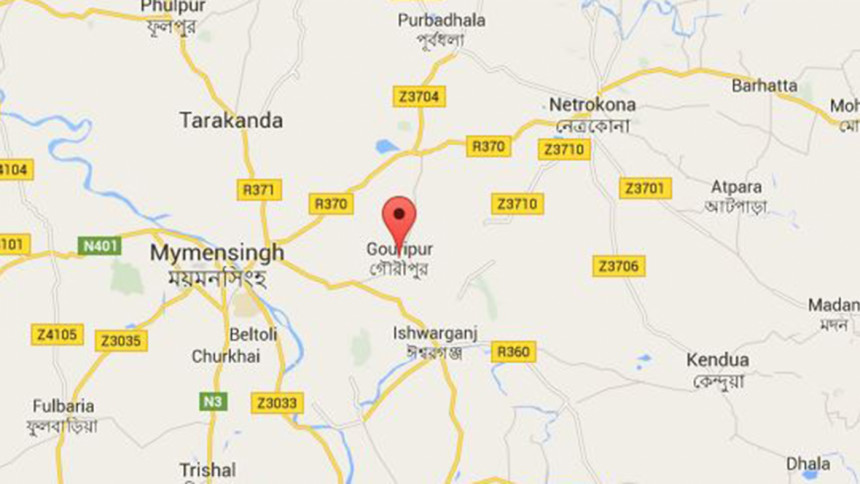 Torture and repression on woman have long been an ugly side of the society in Bangladesh, and many protests and demonstrations have been staged till now to ensure women's rights.
In a unique move, a young woman has staged a hunger strike in front of her in-law's residence in Mymensingh to win back her husband whom she got married one and a half years back.
Diptika Sarker Brishti, 23, and Rajib Sarker, 30, got married at a local court in the late 2013 without informing their families. Later, Brishti's family was notified about their marriage which they accepted.
Rajib, who was jobless at the time of their marriage, started living "happily" with his new wife at a rented house in Mymensingh town.
Around two months later, their happy story gets a twist. Rajib got a job at an NGO and was posted to Bhola, that's when the problem began.
Somehow, Rajib's family heard about the marriage which they kept refusing to accept due to poor condition of Brishti's family.
And for the last one-and-half-year, Brishti has been trying to press her husband to resolve the issue. She does not want money, house or anything; she just wants to live the rest of her life with her lawfully-wedded husband.
At the beginning, Rajib used to console her that everything will be fine, but as time passed by the constant refusal from her in-laws took him mentally away from Brishti.
In the final stage, Rajib started even denying their marriage, Ward-1 Commissioner Masudur Rahman Khan Sujon told The Daily Star quoting Brishti.
Recently, Rajib's family arranged another marriage for their son, forcing Brishti to do something challenging to get her husband.
Brishti, a third year honours student of Government Ananda Mohon College, Mymensingh, went to Gouripur upazila Mahila Vice-Chairman Rabeya Islam Doli, upazila Awami League Organising Secretary Abul Kalam Azad and some other influential people in the area to resolve the dispute.
Doli and Azad arranged a sitting with Rajib's family at Gouripur Upazila Complex some 15 days ago, which yielded no result either.
At last, Brishti, being desperate to get her husband, came up with the unique idea of staging a hunger strike.
Brishti started her demonstration in front of her in-law's house at Bariwala Para in Gouripur around 11:00am yesterday with a determination not leave the place without her demand being fulfilled.
Seeing her demonstration, locals gathered around. Being informed, Gouripur police went to the spot to look into the matter, Officer-in-Charge Mohammad Ali Sheikh told our local correspondent.
Rajib's family yet again refused to accept the marriage.
Intervened by police and mediated by Commissioner Masudur Rahman Khan Sujon, the issue was resolved in the wee hours today.
Rajib has also promised [over phone] that he will accept Brishti as his wife, and he will come and take Brishti to Bhola soon, the ward commissioner told The Daily Star.