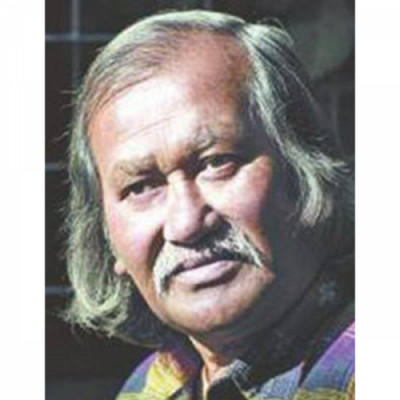 Renowned poet Rafiq Azad, also a freedom fighter, passed away in a hospital in Dhaka this afternoon. He was 73.
Brigadier General (retired) Mazid, director of Bangabandhu Sheikh Mujib Medical University (BSMMU) Hospital, said poet Rafiq, who had been under life support, breathed his last at the Intensive Care Unit (ICU) around 2:00pm.
He was admitted to the hospital on January 15 following a stroke.
Rafiq Azad, one of the most popular poets of Bengali literature, was honoured with Ekushey Padak in 2013 and Bangla Academy Award in 1984 for his works.
Talking to reporters at the hospital today, cultural organisers expressed grief at the demise of such a great personality.
Meanwhile, Abboy Azad, son of the late poet, urged all to pray for his father's departed soul.
"My father had no regrets," he said.
Rafiq Azad is one of the most prolific and dynamic poets of Bangladesh. His strong, intense verses deal with political, social and personal issues. A freedom fighter, he has developed a signature style, distinguished by simple language, powerful syntax and subtlety.
His poetry reflects his experiences of the Liberation War (1971). The poet says, "As a freedom fighter, I think the spirit of Liberation War allows me to explore myself with new thought patterns, which reflects in my poems." In general, the expression is bold in his poems with patriotism as the focal point; romance and humanity are the other noticeable aspects of his works.
Some of his renowned works are Asombhaber Payae, Semabadha Jalae, Simito Shobuja, Ekjibona, Haturier Nichae Jibon, Porikirno Panchala Amer Swadesh, Khub Bashi Durea Nay, Khamakaro Bahoman Hay Udar Omiyo Batas, Karo Ashuro Pat, Pagolar Thekay Pramikar Chiti, Apar Arannya, Moulobir Mon Bholo Nay, and Poems on Love Environment and Other Difficulties.
Azad was born on January 12, 1943, in the remote area of Guni, under Tangail district. He had his primary education under British Indian education system from Sadhuty Middle English School, and developed a keen interest in writing from his childhood.
Azad was one of the most prominent young poets in the post-liberation period. Since then, he began experimentation on language and poetic form, where surrealistic approach was noticeable. He published his first book of poems in 1973.
During the period and afterwards, Azad's poetry changed its course a bit and became more personal, lyrical and romantic. However, most of his poetry depicts poverty, sufferings, injustice, inhumanity, urban and rural life as well as political turmoil, social and economic crises.