Forced disappearances taking place not only in Bangladesh: PM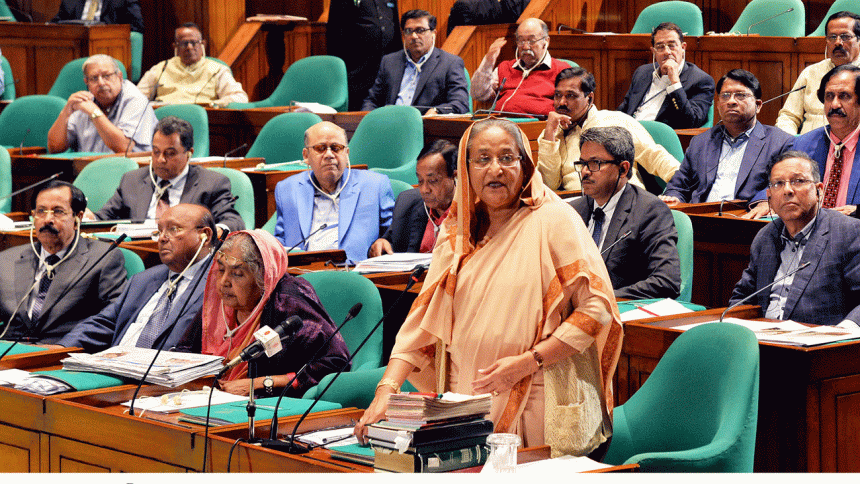 Prime Minister Sheikh Hasina today told parliament that the incidents of forced disappearances are not taking place in Bangladesh rather these are happening in the developed countries.
"There is no way to decline the responsibility of the government to ensure people's security. Incidents of forced disappearance are taking place in different ways and many of them are also returning back willingly," she said while giving her valedictory speech in the House.
"Many have been raising voices after every incident of forced disappearance. Why it is happening and where it is taking place? Is such incident taking place in Bangladesh only?" she posed a question.
Referring to a statistic of 2009, she said some 2.75 lakh Britons were subjected to forced disappearance while some 20,000 of them remained traceless.
"If we speak about America, the situation is very much dreadful there," she said.
Saying that Bangladesh a land of 54, 000 square kilometre having 16 crore people, her government has been trying to serve them and working to improve their socio-economic condition.
"How much the population of the developed countries is? Those countries have also modern technologies. Yet, many people are being disappeared in those countries. Why?" she questioned.
Comparing to those countries, she said her government is trying to keep the situation under control. "Whenever such incident is being taking place, we look into the matter to trace them out," she said.
Without mentioning the name of noted intellectual Farhad Mazhar, who went missing few months ago, the premier said that intellectual went into self-disappearance and later he was found loitering at the New Market in Khulna.
"Are we responsible for such incident?. Such kinds of incidents are being taking place often," she said.
Referring to the incident of killing innocent people in the name of anti-government movement by BNP-Jamaat alliance, the premier said that people would not cast votes for those who had been involved in arson attacks and burning people to death.
"I have a full confidence on the people that they will not cast votes to pave ways for recurring incidents of violence and burning people to death again," she said. 
Hasina, also the president of the ruling Awami League, said those who have conscience, would not cast their votes in favour of the BNP.
"People will not bring the disaster by casting votes for the BNP. As long as my party is in office, we shall continue to work for the betterment of the people," she said, adding that "There would be no result of dreaming for assuming office again as people will not cast votes for them."