Flowers boon for farmers
The cultivation in Faridpur is getting popular as it is commercially profitatle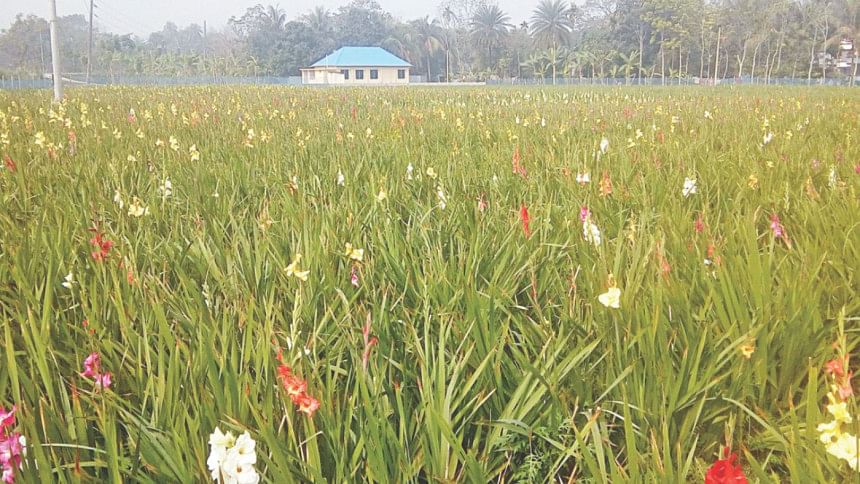 Profitable cultivation of flower is gaining popularity among farmers in Madhukhali and Sadar upazilas. They are now commercially cultivating gladiolus and marigold on their farmlands.
Gladiolus flower is harvested within 90 days and grows all the year round, said grower Md Anwar Hossain of Ghonoshampur village in Sadar upazila.
"I have been cultivating gladiolus on 16 decimals of land for four years and marigold on 60 decimals of land for three years," he said.
"At first Department of Agriculture Extension (DAE) in Faridpur gave me 2,000 seed of gladiolus four years back, but now I can sell seed of gladiolus. I get Tk 2,000 profit from one decimal of land by farming gladiolus and marigold every year," said Anwar.
"Flower cultivation needs a good amount of investment as it is much more profitable than traditional agricultural items. I also started rose cultivation on 10 decimals of land from this year," he said.
Moslam Uddin of Piarpur area said he has been cultivating gladiolus for three years after he did not get profit from his paddy field.
"I am now cultivating gladiolus on seven acres of land. I sell my flowers in the local market and Dhaka," he said.
Sadar upazila Agriculture Officer Md Abul Bashar Mia said flower cultivation has become very popular among the farmers of Ghonoshampur, Molikpur, Piarpur and Poranpur areas in Sadar upazila and Paikgachi and BoroGopaldi areas of Madhukhali upazila. 
Deputy Director of Faridpur DAE Kartik Chandra Chakraborty said flowers are being cultivated on around 5 hectares of land in the district.
Farmers of different upazilas have been interested in cultivating flowers as it is more profitable than other items.