Flash flood in Sylhet
Over 2,000 families marooned, flood control dykes under threat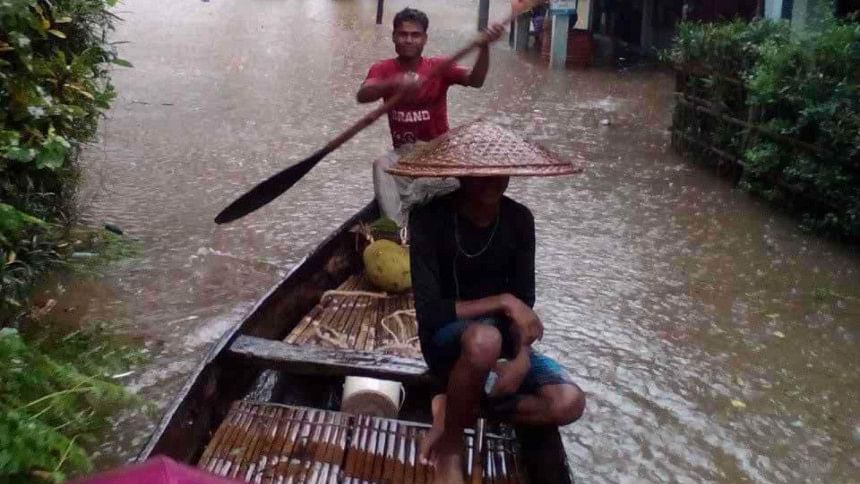 Heavy rain in the last four days and onrush of water from hills across the border have triggered a flash flood in Gowainghat and Jaintapur upazilas of Sylhet.
The low-lying areas of 30 villages in the upazilas have been submerged, marooning over 2,000 families.
Joynal Mia, 65, a worker of Jaflong Tea Garden in Gowainghat upazila, said the affected villagers have taken shelter on high lands and the government institution at the upazila headquarters.
Joynal Abedin, chairman of Jaintapur Upazila Parishad, said floodwater entered the low-lying areas of at least 16 villages, marooning around 1200 families.
Being informed, officials of the Water Development Board (WDB) visited the affected areas.
Abdul Hakim Chowdhury, chairman of Gowainghat Upazila Parishad, said communication between five unions--Pashchim Jaflong, Purbo Jaflong, Rustampur, Dhobari and Lengura--and the upazila headquarters remained snapped for the last two days as all roads leading to the upazila town went under water.
Two flood control embankments are under serious threat as the rivers flowing through the upazilas have started swelling further.
In the last 24 hours, 150mm rainfall was recorded at different points of Surma, Shela and Kushiyara rivers, said Abdul Matin, deputy divisional engineer of Sylhet Water Development Board.