Karwan Bazar blaze tamed after 2 hours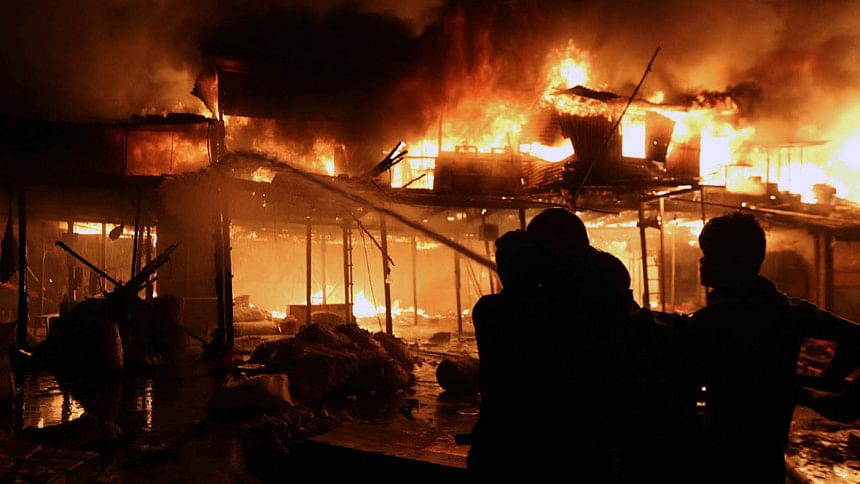 After two hours of frantic efforts and reinforcement, fire fighters managed to control the deadly blaze that broke out in Dhaka's largest kitchen market Karwan Bazar.
It took 26 units of fire fighting teams to bring the flames under control around 9:55pm, an on-duty officer of Bangladesh Fire Service and Civil Defense, told The Daily Star.
The blaze broke out around 8:00pm and there was still chunks of black smoke in the sky. It was being speculated that the winds helped fire to spread out to nearby shops.
"It was a big fire," said Hafizur Rahman, an inspector of the fire service. "Initially, 16 units were called in. But later, it proved insufficient and six more were dispatched."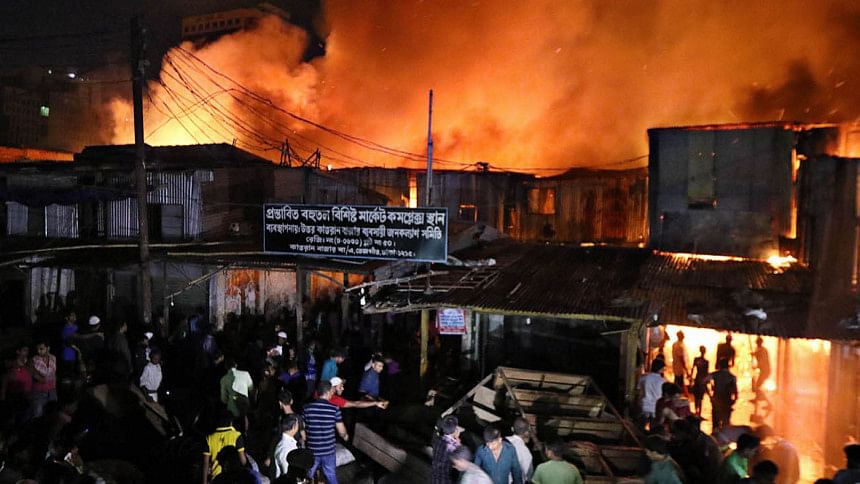 The exact location of the fire was said to be at Hasina Market, a depot of fruit and groceries behind Janata Tower on the Kazi Nazrul Islam Avenue. Many of the shops were already gutted.
No casualties were reported. The cause of the fire was yet to be ascertained.
There are about 178 shops in the area - where bedding, fruits, spices, groceries and other kitchen goods are regularly distributed throughout Dhaka city after coming in from different parts of the country.
Just this evening, heavy thunderstorm accompanied by rain swept through Dhaka and most other parts of the country. Winds of upto 74kmph were recorded by the Met Office.