HC issues rule about missing doctor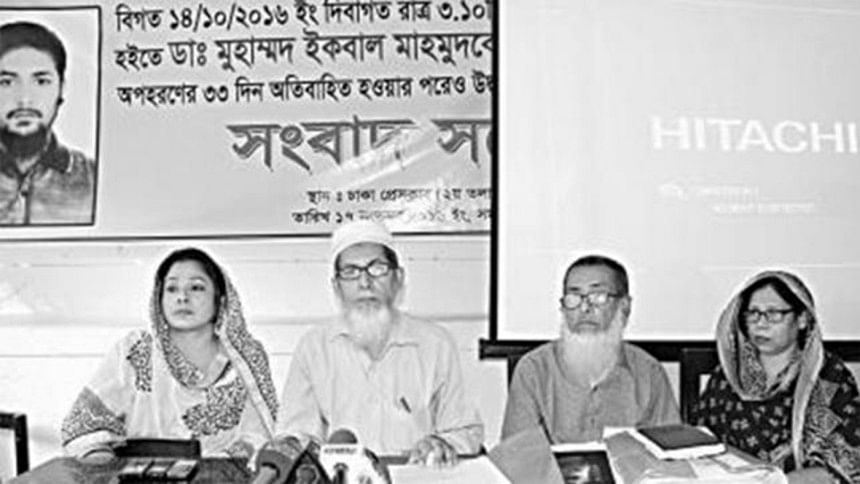 The High Court today wanted to know about the steps taken to trace Doctor Muhammed Iqbal Mahmud, a medical officer of the directorate of health services directorate, who was allegedly abducted from Dhanmondi area in Dhaka on October 14.
The court directed the authorities concerned of the government to submit a report before it in ten days on what steps have been taken to trace out the missing physician.
It also issued a rule upon the authorities to explain in four weeks why their inaction to find out the abducted doctor should not be declared negligence, Deputy Attorney General Amatul Karim Swapna told The Daily Star.
Home secretary, inspector general of police, commissioner of Dhaka Metropolitan Police, its deputy commissioner (south), director general of Rapid Action Battalion, commanders of Rab-2, 3 and 11, deputy commissioner, and the officer in charge of Dhanmondi Police Station have been made respondents to the rule.   
The bench of Tariq ul Hakim and Justice Md Faruque came up with the order and rule following a writ petition filed by doctor Iqbal's father AKM Nurul Alam on November 15 seeking necessary orders from the HC to find out his son.
In a CCTV footage obtained by Bangla daily Prothom Alo, Iqbal Mahmud was seen being taken away by seven or eight persons in a microbus near Science Laboratory.
A police van was seen following the microbus. There has been no news of this doctor since then.