Faridpur newborn needs proper treatment in Dhaka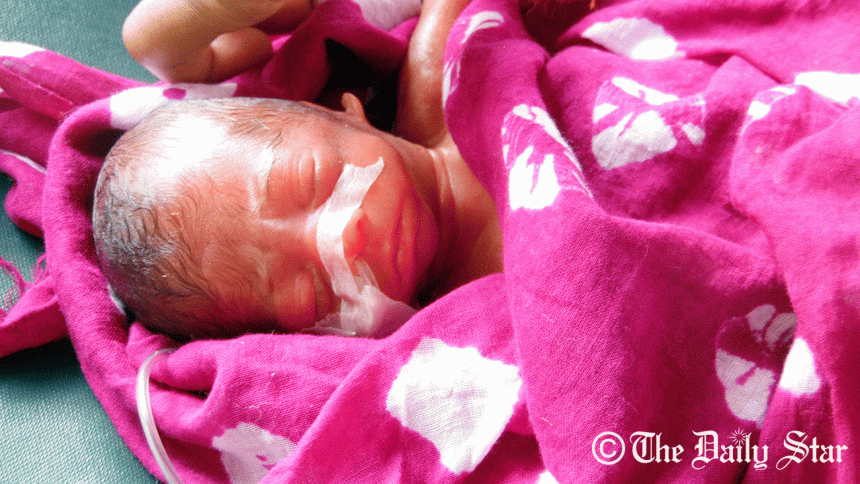 The newborn baby girl, who was found alive when she was being buried in Faridpur yesterday, needs proper treatment, doctors suggest today.
Khondokar Md Abudulla His Sahad, a child specialist of Faridpur General Hospital, said the baby should be taken to Dhaka for proper treatment.
The baby, now undergoing treatment in an incubator of a local hospital in the district, cried out at the graveyard when family members were preparing to bury her yesterday morning, six hours after a doctor said she was dead.
However, the baby is not fit physically to move to Dhaka, our Faridpur correspondent reports quoting the doctor.
Meanwhile, Sobita Saha, a nurse at the hospital, said, "Condition of the baby is now well. We gave her saline and injection and she is moving her hands and legs."
The newborn's grandfather, Abul Kalam Mia, yesterday said his daughter-in-law Naznin Akter felt labour pains around 9:00pm on Wednesday, when the family took her to Jahid Memorial Child Hospital in Faridpur town.
The hospital authorities refused to admit her, saying there were no beds left unoccupied, alleged Kalam, an employee at Faridpur Ansar Camp.
When he requested doctor Rejia Alom to examine Naznin, who was due in January, the doctor refused, saying she would "attend her later".
Meantime around 12:00am, Naznin gave birth to the girl normally in the doctor's room, where she had been waiting all the while.
After some time, Rejia came out of the operation theatre and declared the infant dead.
The newborn was then kept in a carton on the hospital floor, he alleged.
A dejected Kalam took the baby to Faridpur Municipality Graveyard for burial on the night. As it was still dark, an employee asked him to wait until the following morning. Kalam obliged, keeping the carton beside a concrete grave.
In the morning, imam Abdur Rob while reciting from the Quran asked Kalam to open the carton. "As I opened the carton, the baby cried out. I then untied its hands and legs," Kalam said.