Pressure on highways increases
Many stuck at Shimulia ferry ghat, traffic movement slow on Dhaka-Tangail highway
-    5-km queue at Paturia ferry ghat

-    Snail's pace on Dhaka-Tangail highway
Pressure of a huge number of vehicles carrying Eid holidaymakers created havoc on Shimulia-Kawrakandi route in Munshiganj and Dhaka-Tangail highway and today.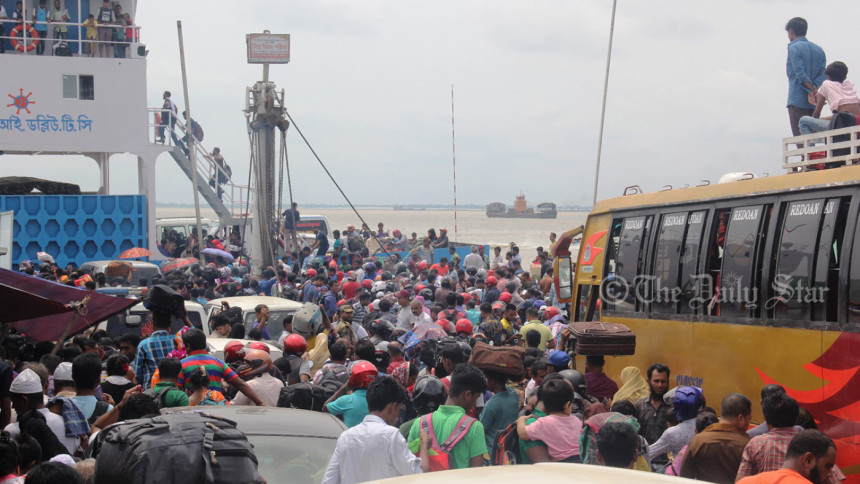 Several thousands of vehicles remain stuck in a tailback at Shimulia ferry ghat since morning due to the onrush of homebound people, our Munshiganj correspondent reorts quoting Khondokar Shah Newaz Khaled, assistant general manager of Bangladesh Inland Water Transport Authority (BIWTA).
Water in the channels is shallow, therefore, the ferries could not operate properly, he said.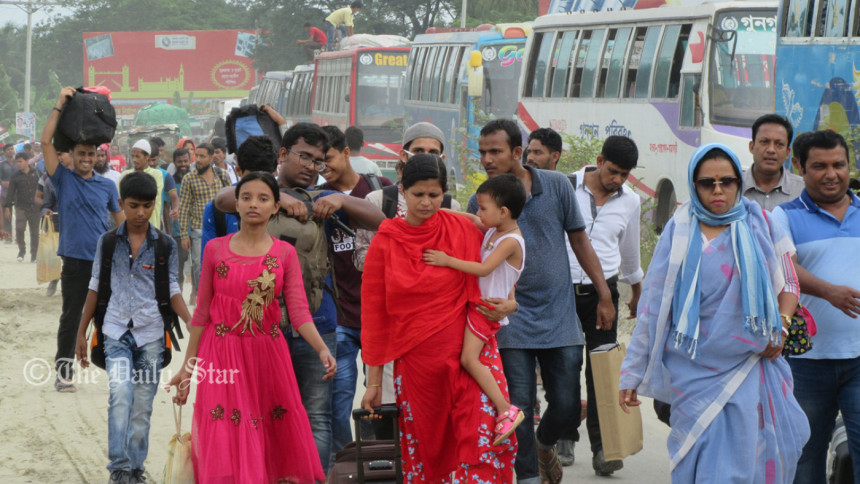 The situation worsened when two ferries – Enayetouri and Shah Paran – remained stuck for two hours in the middle of the Padma river early morning, he said.
Long queues of vehicles are seen at almost all points in the ghat area as there is a huge pressure of homebound people at the moment, the BIWTA official added.
Currently, 19 ferries, 87 launches and over 300 speedboats are used in the service, he said.
Around 600 policemen are working to provide security on the Dhaka-Mawa highway, Md Zaedul Alam, superintendent of Mushiganj district, said.
Meanwhile, a long queue of vehicles was created for over an hour on the Dhaka-Tangail-Bogra highway in Sirajganj on the other side of Bangabandhu Multipurpose Bridge, reports our staff correspondent who was travelling through the area.
5-km queue at Paturia ferry ghat
Passengers of 19 south-western district of the country are suffering a lot of problems as they being waited at Paturia ferry terminal for hours.
The passenger buses were seen lined up stretching up to five-kilometres at Paturia Ghat while six kilometers long small vehicles' queue were seen in another lane at the ghat.
The pressure is increasing at the launch ghat due to increase of passenger more than normal number. A total of 33 launches are being run in Aricha-Kazirhat and Paturia-Daulatdia river routes to handle additional passengers.
Nine Ro-Ro, six utilities and three K-type ferries are running at Paturia-Daulatdia route, our Manikganj correspondent reports quoting Zillur Rahman, assistant general manager (commerce) of BIWTC's Aricha office.
Snail's pace on Dhaka-Tangail highway
Vehicles were seen moving slowly from Safipur to Mirzapur on Dhaka-Tangail highway this morning due to heavy pressure of the traffic, reports UNB.
Homegoers were seen traveling on the roofs of buses and in trucks and pickups, risking their lives to celebrate Eid-ul-Azha with their families.
Highway police said long queues of vehicles were seen at different points of Kaliakoir and Safipur due to the heavy rush of vehicles carrying the holidaymakers, especially the readymade garment workers.
Besides, vehicles on Dhaka-Mymensingh highway in Tongi and Bhogra points were moving very slowly.
People were also seen waiting for hours at the many points of the highways for lack of vehicles.