DU teachers, students protest attacks on publishers, bloggers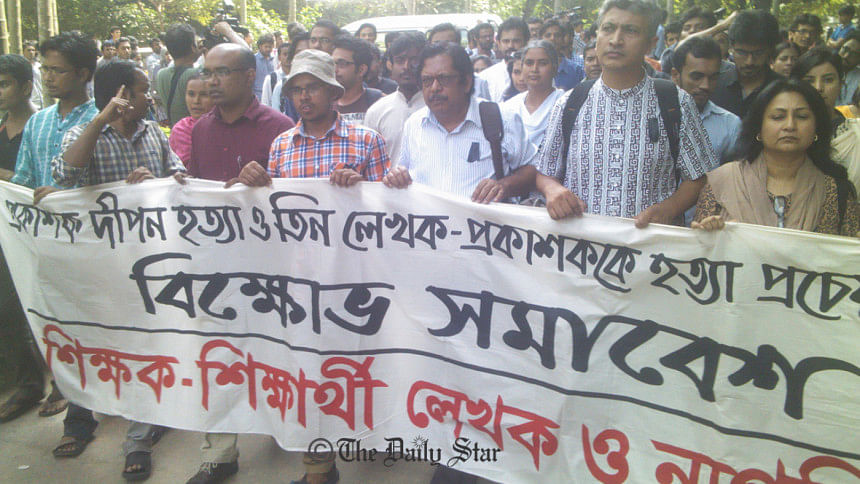 Teachers and students of Dhaka University today formed a human chain in front of the Arts Building protesting attacks on publishers and bloggers that killed one and injured three others.
Several hundreds of people from all walks of life including Gonojagoron Manhca activists and student organisations joined the teachers and students in the human chain that started around 11:00am, reports our Dhaka University correspondent from the spot.
Later, they held a rally in the campus under the banner of Shikkhok, Shikkherthi, Lekhok O Nagorik Brindo.
The protesters demanding arrest of the perpetrators of the attacks also brought out procession.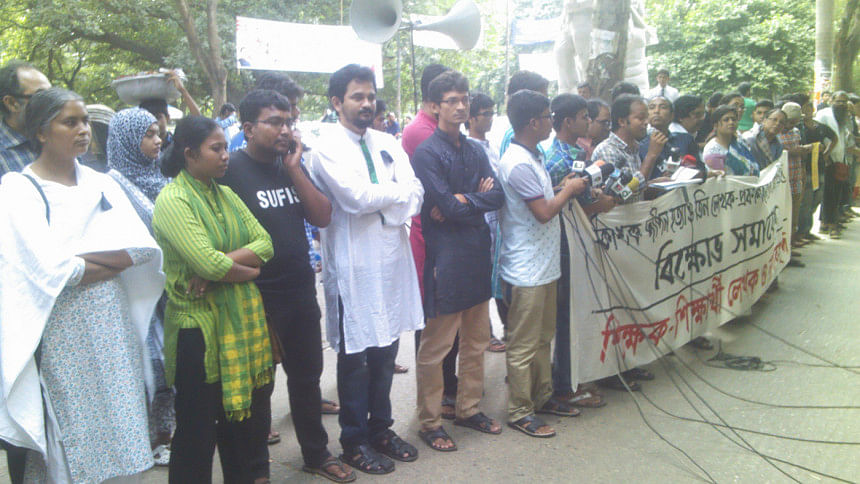 On Saturday, unknown assailants hacked Faisal Arefin Dipan of Jagriti Prokashani to death and critically injured Shuddhoswar's Ahmedur Rashid Tutul and bloggers Tareque Rahim and Ranadipam Basu.
Dipan and Tutul were publishers of slain secularist writer-blogger Avijit Roy who was also hacked to death near the TSC at Dhaka University on February 26.
Soon after the attacks, a group identifying itself as "Ansar Al Islam (AQIS) Bangladesh," claimed responsibility for the twin incidents through an email sent to different media outlets.