Diplomats to determine 'Bangladeshis' in Malaysia mass graves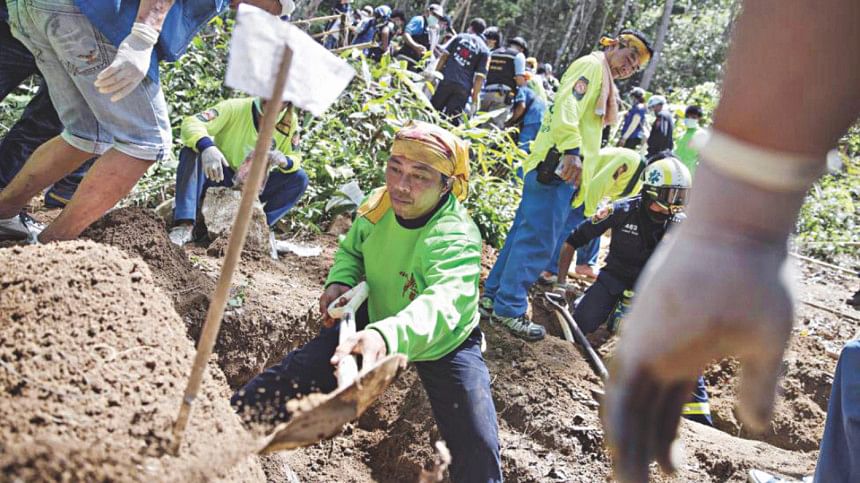 Bangladesh High Commission will be in touch with Kuala Lumpur to determine whether the mass graves, believed to contain bodies of hundreds of migrants in Malaysia, are of Bangladesh citizens.
Mass graves and suspected human trafficking detention camps have been discovered by Malaysian police in towns and villages bordering Thailand, the country's Home Minister, Dr Ahmad Zahid Hamidi said on Sunday.
"We have heard about the discovery of several mass graves of the migrants mainly Rohingyas in the Malaysian border area. But we are not sure whether any Bangladeshi was among the victims or not," Sayedul Islam, counselor (Labour Wing) at the mission told The Daily Star over phone today.
There is no way to be confirmed of any Bangladeshi victim in the graves until the Malaysian police investigate the incidents, he added.
"We'll contact the Malaysian authorities about the discovery of the mass graves soon. If they want any cooperation from us for the investigation, we'll assist them," Sayedul mentioned.
Malaysian home minister confirmed the discovery of the mass graves and said the camps had been there for a while.
"Maybe even five-years. I am shocked!" the Malaysian daily The Star reported quoting him. The minister added that the discovery left little doubt that Malaysians were involved.
"Malaysia as a government is not involved. But Malaysians, yes! I recognise that as a fact. But you know, in Mexico and the United States, they have more intelligence and state-of-the-art border security but there is still human trafficking happening there," he told reporters.
Sayedul Islam, the counselor at the mission, however, said they didn't receive any complaint about the Bangladeshis' involvement in human trafficking based in Malaysia.
"We are getting reports about some Bangladeshis' desperate move to reach Malaysia through the sea route from Cox's Bazar point. But it is not clear whether any Bangladeshi national is involved in this illegal human trade or not," he said.
Meanwhile, on May 11, as many as 603 self-claimed Bangladeshi jobseekers were rescued by the Malaysian authorities and they were taken to Kedah detention centre for quizzing.
Sayedul Islam said they would start verifying the nationality of the rescued Bangladeshis by this week and after the completion of the nationality verification of the Bangladeshis, they will be sent back home.