Dhaka-Guwahati trial bus service starts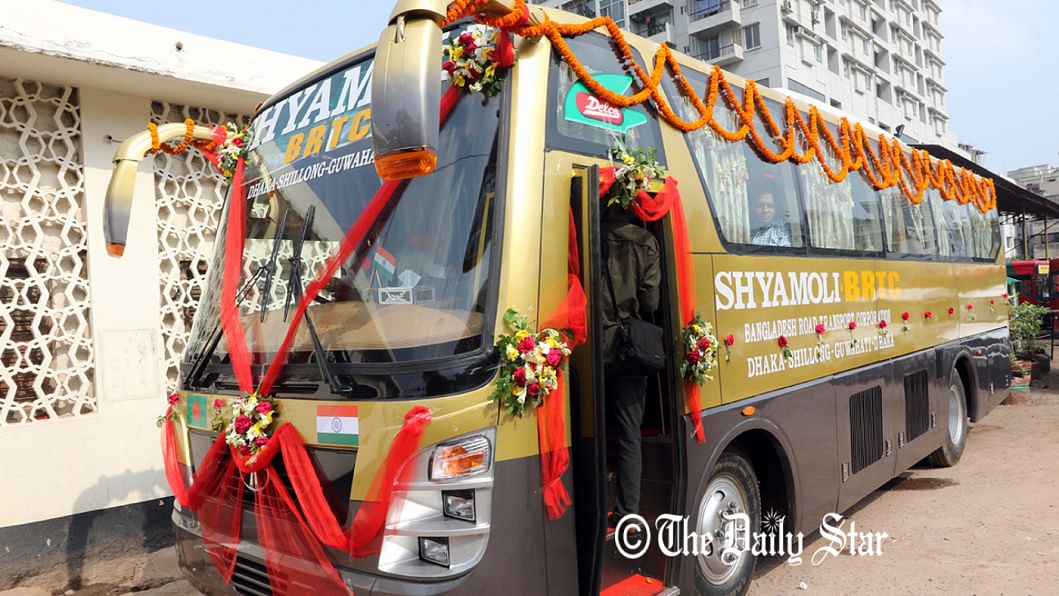 For a trial run, a bus with 22 government officials led by Azharul Islam Khan, joint secretary of Road Transport and Highways Division, left Dhaka for Guwahati this afternoon.
The bus will stay at Sylhet Circuit House tonight and is expected to cross the border tomorrow morning. A state minister is supposed to receive the bus after crossing the border, said BRTC official
"The delegation will check feasibility of the route and overall infrastructure. The bus will return on Monday or Tuesday," said the BRTC chairman.
Speaking to reporters today, Road Transport and Bridges Minister Obaidul Quader said the agreement or protocol on Dhaka-Guwahati bus services is likely to be signed during the visit of Indian Prime Minister Narendra Modi next month.
He made the remark while briefing reporters after inaugurating the trial run of Dhaka-Sylhet-Tamabeel-Dauki-Shillong-Guwahati bus service at Kamalapur bus depot of Bangladesh Road Transport Corporation (BRTC).
Indian High Commissioner in Dhaka Pankaj Saran, who was present at the function, said, "Today is important day for both countries because it comes after a lot of efforts and hard work…. This will contribute more exchange among the people, among the tourists of both the countries."
About the upcoming visit of Indian Prime Minister in Bangladesh, Pankaj said, "I am sure that we will be able to achieve other milestones in our relationship. We are expecting high level dialogue between the two leaders."
Road Transport and Highways Division Secretary MA N Siddique and several senior government officials were present at the function.