Dhaka, Beijing sign 6 instruments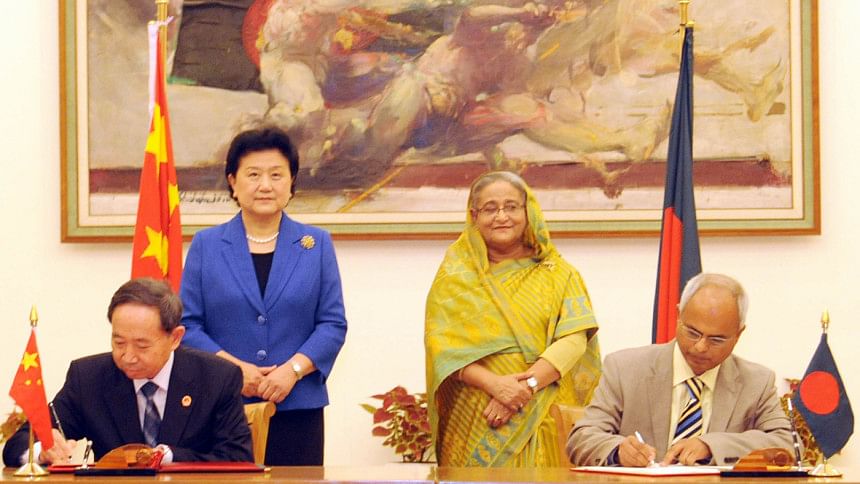 Bangladesh and China today signed six instruments to further boost bilateral ties between the two countries both at public and private sectors.
The instruments include three MoUs, two cooperation agreements and one exchange of notes in the fields of education, media and trade.
The instruments were signed following a meeting between Prime Minister Sheikh Hasina and Chinese Vice Premier Lio Yandong at the Prime Minister's official Gono Bhaban residence here this evening.
Hasina and Lio Yandong witnessed the signing of the deals and instruments.
The MoU on Cooperation in Education between the ministries of education of the two countries was signed by Education Secretary of Bangladesh Md Nazrul Islam Khan and Chinese Education Minister Yuan Guiren.
The Ministry of Information of Bangladesh and the State Administration of Press, Publication of China signed a MoU for cooperation in the fields of radio, film and television. Information Secretary Mortuza Ahmed and Vice Minister of China Tong Gang signed the MoU.
Another MoU between the University of Dhaka and Beijing Foreign Studies University was signed for cooperation in the areas of exchange of students, faculty, scholars and administrative staff, research collaboration and sharing of academic materials and information. Dhaka University Vice Chancellor Prof AAMS Arefin Siddique and President of BFSU Peng Long signed the MoU.
Southeast University of Bangladesh and Wuhan Textile University, China signed an agreement for Cooperation in joint undergraduate programme on textile engineering. Southeast University Vice Chancellor Prof Anwar Hossain and WTU Chancellor Wei Yiliang signed the agreement.
The other cooperation agreement was signed between BGMEA University of Fashion and Technology, Bangladesh and Wuhan Textile University, China for joint undergraduate programme on fashion design. Founder chairman of BGMEA University Muzaffar U Siddique and WTU Chancellor Wei Yiliang signed the instrument.
The lone exchange of notes between Bangladesh and China on container inspection equipment project was signed by ERD Senior Secretary Mohammad Mejbahuddin and Chinese Ambassador to Bangladesh Ma Mingqiang.