Nizami decides to seek review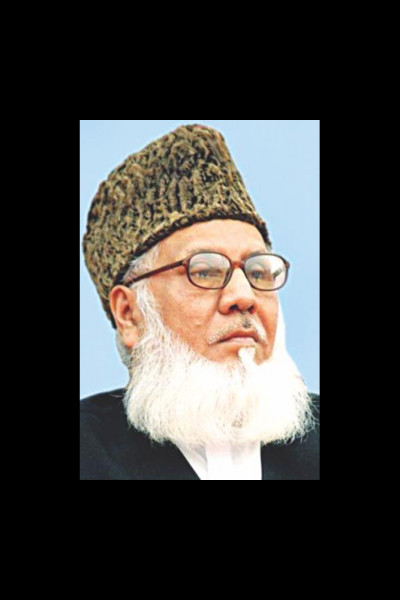 War criminal and Jamaat-e-Islami leader Motiur Rahman Nizami will seek review of the Supreme Court verdict which upheld his death penalty, his son said after meeting him at Kashimpur jail in Gazipur this afternoon.
"We have decided to pray for a review of the verdict through the due process of law," Nizami's son, lawyer Nazib Momen told reporters after meeting his father at jail.
READ MORE: Charges against Nizami
Nazib Momen and two lawyers held talks with the war criminal Nizami for around 40 minutes, our Gazipur correspondent reports quoting Prashanta Kumar Banik, jail super of Kashimpur jail part-2.
Earlier, the jail authorities allowed the three lawyers to meet the war criminal Nizami.
READ MORE: Observations on Nizami in full verdict
The jail authorities read out the death warrant and Supreme Court's full verdict to Nizami around 10:00am.
After hearing, he said he will seek review of the verdict in consultation with lawyers.
Leader of infamous Al-Badr force in 1971, Nizami was given the capital punishment by a specialised war crimes tribunal in October 2014. The apex court later upheld his death in appeal.
International Crimes Tribunal issued Nizami's death warrant last night hours after the apex court released its full verdict. Copy of both documents reached Kashimpur at 9:00am today.
Nizami will have 15 days time to file a review petition. However, Attorney General Mahbubey Alam yesterday said that the scope of reviewing the judgement in a war crimes case is very slim.
If the review petition is rejected, the last option for Nizami will be to seek presidential mercy.