Bogra nor'wester deaths climb to 19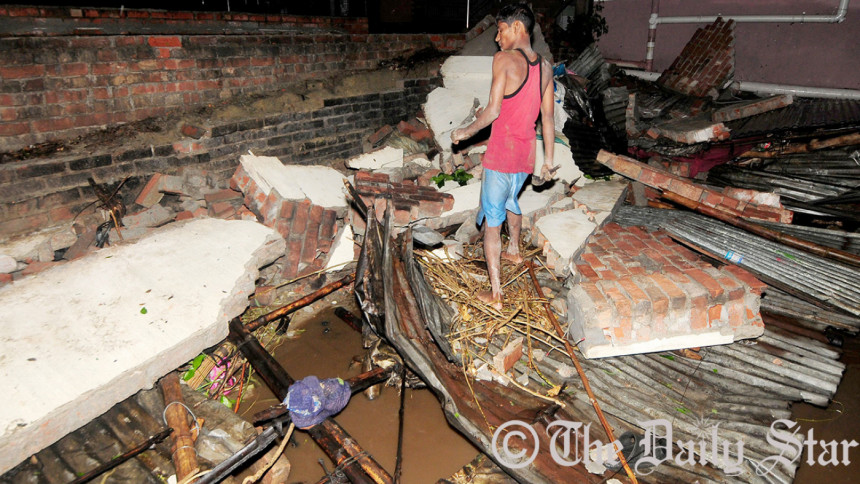 The death toll in Bogra climbed to 19 today following last evening's nor'wester lashing about through several areas of the district.
With this, a total of 28 people were killed in the storm that swept through Dhaka and different northwestern districts yesterday.
Sixty-three injured victims were rushed to Shaheed Ziaur Rahman Medical College and Hospital, while the others received treatments at different local hospitals and clinics.
Of the victims, seven were killed in Bogra Sadar, three each in Shahjahanpur and Sariakandi, two in Kahalu and one each in Gabtoli, Nandigram, Sonatola and Dhanut upazilas, our correspondent reports quoting Arifur Rahman, additional superintendent of police (DSB) in Bogra.
The dead were identified as Azirun Bibi, Nila aged three months, Rajab Ali, 15, Palash, 18, and Golapi Begum, 34, from Bogra Sadar, Abdul Mannan, 35, Rabeya Dewa, 65, Payel alias Budah, 16, Mustafizar, 60, Akalu, 60 from Shahjanpur, Santa Begum, 50, Sujon, 30, Mozam, 56, from Sariakandi, Azizul, 19, Ismail Hossain 38, from Kahalu, Afzal Hossain, 60, from Dhunut, Firoza Bewa, 55, from Shonatola and Ssamia Begum, 32, from Gabtoli. Abdus Sattar, 56 from Nandigram.
The 12-munite long storm with the speed of upto 121kmph hit over Bogra district leaving a trail of devastation. Many establishments were damaged with trees and light posts uprooted during the storm.
Power supply was disrupted in many places, said Shafikur Reja Biswas, deputy commissioner of Bogra.
Power Development Board source said that the PDB men have been working to ensure power supply as early as possible and after 24 hours the power supply began taking lives of the people of the district in a normal state.
Superintendent of Bogra police Mozammel Haque visited the victim families and compensated Tk 5,000 each for the deceased's family.
Shafiqur Reza Biswas, Bogra deputy commissioner said families of the deceased will be compensated Tk 20,000 each from on behalf of the government.